The latest news from Brazil. Just three years after acquiring Brazil's Banco Pactual investment bank for some $2.5 billion, UBS is selling the bank back to its previous owners for roughly the same amount.
By Antonio Guerrero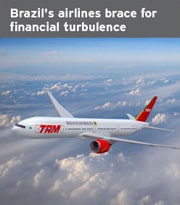 The sale is prompted by UBS's financial troubles, including last year's $18 billion loss. Brazilian financial wunderkind André Esteves, who sold Pactual to UBS in 2006, is now acquiring it back through his BTG Investments firm. Esteves founded BTG last year along with former central bank chief Persio Arida. BTG expects to lead Pactual, which has $25.4 billion in assets under management, into an international expansion drive. BTG has already acquired Lentikia Capital, a London-based asset management firm, and Lehman Brothers' Brazilian operations.
While some international banks are exiting Brazil, others are moving in. The Bank of China will open its first Brazilian branch, in São Paulo, by July. The Chinese bank will focus initially on financing companies engaged in bilateral Chinese-Brazilian trade and hopes to enter the remittances market to service Brazil's Chinese community. However, it is reportedly in talks with local banks to establish agreements that would allow it to enter the retail market.
Taking advantage of an emerging market debt rally, Brazil reopened its bond issue due in 2019. The sovereign sold $750 million in May at a yield of 2.52%. The bonds were first launched in January via Citi and Barclays Capital, raising $1.03 billion at a 6.13% yield. The coupon has since fallen to 5.875%. The reopening produced demand for as much as $3 billion worth of the sovereign paper, prompting the nation's treasury to increase the amount offered from an initial $500 million. Demand was said to be particularly strong from European investors.
Brazilian airlines are being hit hard by a slowdown in air travel and deteriorating credit profiles. Both factors led Fitch Ratings to downgrade the country's carriers in May. Fitch downgraded TAM, the country's largest airline, to BB- from BB. It also cut the rating on Gol, Brazil's largest low-cost carrier, to B+ from BB.