Latin American markets are feeling the global financial pinch, and ratings agencies are taking notice, with downgrades soon to follow.
By Antonio Guerrero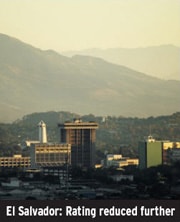 Standard & Poor's downgraded El Salvador from BB+ to BB last month, and it seems Mexico is next in line. This would mark Mexico's first downgrade since its 1994 peso devaluation.
Citing concerns over a budget gap and rising inflation, S&P; pushed El Salvador's rating further into junk territory on May 12. The agency had slashed its outlook on El Salvador to negative last September. Just a day before the downgrade, S&P; lowered its outlook on Mexico to negative from stable, prompting analysts to predict its downgrade will be far quicker than El Salvador's and could come in the third quarter. S&P; rates Mexico at BBB+, Latin America's second-highest investment-grade-rated country, behind Chile. Fitch had already cut Mexico's outlook to negative last November.
Mexico's economic predictions do little to allay fears that its rating will fall. Finance minister Agustín Carstens says the economy will shrink by 4.1% this year, with the slowdown heightened by the H1N1 epidemic that has closed businesses and driven tourists to other destinations. Carstens says the economy may have already contracted by as much as 7% during the first quarter. With the opposition PRI party poised to make strong congressional gains during July's mid-term election, it is unlikely the Felipe Calderón administration will be able to push through the reforms that could keep Mexico in investment-grade territory.
Fitch is also downbeat on Latin America's prospects. "The main risks for Latin America's credit outlook continue to be a sharp and a prolonged global recession; continued decline in commodity prices; sustained closure of the private sector to international markets and/or a re-emergence of the intense global financial instability observed in the final months of 2008; and a rise in political and social instability in the region due to worsening growth and rising unemployment," the ratings agency commented in its Latin American Sovereign Outlook for 2009.