The election of a pro-business leader in Panama now makes president-elect Ricardo Martinelli a member of the somewhat lonely club of Latin American right-wing leaders, in which the only other member is Colombian president Alvaro Uribe.
By Antonio Guerrero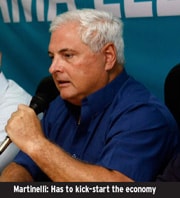 However, the reelection of Ecuadorian president Rafael Correa, a socialist, indicates markets should not expect a full swing back to the right any time soon.
Martinelli, a self-made multimillionaire who owns Panama's largest supermarket chain, vows to improve education, transportation and public safety after being sworn in July 1. Working with him as finance minister will be Alberto Vallarino, former head of Banistmo before the bank was sold to HSBC. They will have to kick-start the country's sluggish economy, which is expected to grow just 2% this year after last year's 9.2%. They will also oversee the $5.25 billion expansion of the Panama Canal, which has seen a 15% decline in traffic this year.
Martinelli, who maintains a pro-US stance, says passage of the stalled free trade pact with Washington is a key priority. US legislators claim that Panama remains a tax haven and are also calling for tougher labor rights protection.
On the domestic front, Martinelli promises to boost infrastructure spending, including on a proposed $1 billion subway, and advocates for introduction of a corporate flat tax. His conservative coalition gained a congressional majority.
On the other end of the political spectrum, Ecuador's Rafael Correa's reelection victory may now encourage him to take a more hard-line stance. Correa, a close ally of Venezuelan president Hugo Chávez, has not yet followed Chávez's lead in nationalizing companies, though his relationship with the business sector is rocky. With his strong win at the polls, and with constitutional reforms in place granting him greater power over the economy, analysts say Correa is likely to consolidate his socialist agenda. It seems the battle lines between right and left in Latin America have been drawn once again.