MILESTONES: MYANMAR
By Thomas Clouse
Preparing to chair the Association of Southeast Asian Nations (ASEAN) in 2014, Myanmar is also opening its doors to foreign investment.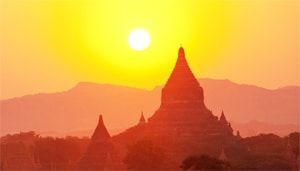 A new dawn breaks in Myanmar, which is open for business
Leaders from ASEAN's member states expressed support in November for the country's bid to chair the organization in 2014. ASEAN's endorsement comes after Myanmar's current regime, which came to power last year, loosened media controls, legalized political protests, freed over 200 political prisoners, and halted construction on an unpopular dam project. The country, formerly known as Burma, was scheduled to chair ASEAN in 2006 but declined the opportunity amid pressure from other ASEAN states over its human rights record.
Despite expressing reservations about Myanmar's bid for the ASEAN chair, the US government is taking steps to improve its relationship with the country's leaders. Shortly after ASEAN's decision, US secretary of state Hillary Clinton visited Myanmar, the first such trip by a US state secretary in five decades. Clinton met with the current president Thein Sein, as well as former political prisoner and Nobel Peace Prize winner Aung San Suu Kyi.
Myanmar's improvement in international relations holds potential for investors, who see the resource-rich country of 48 million people as one of Asia's last market frontiers. "Myanmar is opening to foreign investment, trade, and opportunities," says Sean Hayes of Hong Kong and New York-based IPG Legal. "As experience in Southeast Asia predicts, these opportunities will be largely won by those that enter the Myanmar market first."
The Myanmarese government faces significant challenges in attracting investors, however. Infrastructure is underdeveloped, ethnic conflicts persist in northern regions of the country, and the government still holds more than a thousand political prisoners. The country's leaders must improve relations with other countries, without damaging its strong trade and investment relationship with China.