NEWSMAKERS: BRAZIL
By Antonio Guerrero
Brazilian president Dilma Rousseff, a former technocrat and Marxist activist, completed her first year in office on January 1 with a 72% approval rating.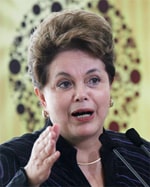 Rousseff: A pragmatist with no tolerance for corruption
Rousseff, who was predecessor Luiz Inácio Lula da Silva's chief of staff, has continued many of his successful economic policies. In her first radio chat of the year, she said Brazil is entering a new era of prosperity, and the data supports her assertion.
"In a year when almost all countries lost jobs, we created over two million jobs," Rousseff said in her weekly radio program. GDP growth slowed to 2.87% last year, from 2010's 7.5%, still above that of many developed nations.
Authorities predict the economy will grow by 3.2% to 3.8% this year. In a move to support local production, the administration in late 2011 took steps to restrict imports of industrial goods and approved tax exemptions to increase exports, while the president is pushing for lower interest rates.
Trade remains the country's economic growth engine. Brazil's trade surplus rose 47.8% year-on-year in 2011, to $29.7 billion, with $256 billion in exports (up 26.8%) and $226 billion in imports (up 25.7%). This is the highest trade surplus since 2007. Trade helped boost net dollar inflows from $24.4 billion in 2010 to $65.3 billion in 2011.
The central bank expects foreign direct investment to fall in 2012 to $50 billion from last year's $65 billion—primarily as a result of the tougher economic conditions faced in many key FDI markets that target Brazil. However, China's appetite for Brazilian commodities is still voracious, making it Brazil's largest trading partner since 2009. Exports to China grew 43% year-on-year, to $44.3 billion, last year, when bilateral trade totaled $77.1 billion. The US came in second, at $60.1 billion.
Rousseff has proven to be driven more by pragmatism than by ideology. Despite her widespread support from the labor sector, she prompted her congressional coalition to defeat a large wage increase for pensioners and civil servants. She also declared war on government corruption—seven cabinet members left their seats in 2011 and criminal investigations were initiated on more than 100 lawmakers.