MILESTONES: RUSSIA
By Laurence Neville
Russia spent much of 2010 in the doldrums.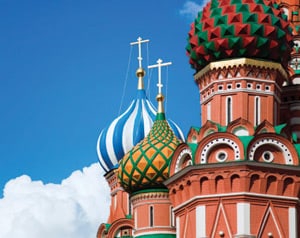 Russia: Poised for significant growth
While its fellow BRICs—Brazil, India and China—stormed ahead, Russia lagged behind. The causes of its lethargy were varied, but an overreliance on commodities, perceived political interference in the economy and a lack of reform were prime contenders. Could soccer—in December Russia won the bid to host the 2018 World Cup—help to turn it around?
Research from BoA Merrill Lynch shows that both South African and Brazilian markets outperformed for the six months following their successful World Cup bids. More important, the World Cup could act as a hard deadline for reforms and investment in Russia, according to Michael Hartnett, equity strategist at BofA Merrill Lynch Global Research. "The World Cup may prove a catalyst to reinvigorate the government's pledge to plough $1 trillion into infrastructure over the next 10 years," he suggests.
The World Cup bid is just one factor galvanizing analyst opinion that Russia is poised for significant growth. Chief among the others is Russia's $59 billion 2011–2015 privatization program. In 2011 alone the program is expected to raise more than $15 billion. Perhaps more significant than the sale of stakes and flotation of companies in the banking, oil, transport, telecom, airline and agriculture sectors is the signal it sends about reform. "To ensure sustainable economic growth in the medium term, Russia needs to improve the investment climate, attract foreign direct investment and raise productivity," explains Dmitry Vinogradov, co-head of equity research, Russia and CIS at UBS. "Recently launched reforms are positive but have not yet delivered any breakthrough. The privatization program and WTO accession [which is expected to occur during the first half of 2011] could act as catalysts for the creation of a more investor-friendly climate."
Vinogradov adds: "The Russian economy has taken time to recover, but recently economic momentum has strengthened, and growth rates should pick up in 2011." He expects growth of 4.8% in 2011, compared with 4.1% in 2010. That might not sound like much of an increase, but just a bit of World Cup–related cheer, or faster-than-expected reforms, could significantly accelerate growth.