MILESTONES: RUSSIA
Russia Taps Global Markets For First Time in 12 Years
By Kim Iskyan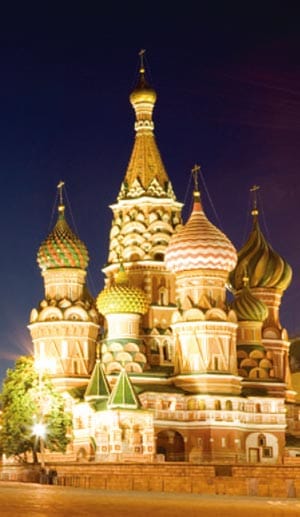 Moscow calling: Russia tests investor sentiment
Russia tapped global fixed-income markets in late April in a highly anticipated issue divided into a $2 billion five-year tranche and a $3.5 billion 10-year tranche. The deal, which closed just days before spreads widened sharply on the back of Greece debt-crisis contagion concerns, marked the first time the sovereign has tapped global markets since 1998. Investors in the issue were drawn to Russia's strong and improving macroeconomic position. The country's coffers boast $455 billion in reserves, and inflation is hitting new lows, while the ruble is steadily strengthening. GDP growth forecasts for 2010 are being upgraded to as high as 7%, following a 7.9% slump in 2009—the worst among G-20 countries.
The government's fiscal position is showing strain, however. Throughout much of the 2000s, government revenues rose dramatically, thanks to high commodity prices and surging oil exports. Expenditures increased less sharply, leading to years of healthy budget surpluses. But as government revenues collapsed in the wake of the global economic crisis, the Kremlin boosted social spending. As a result, in 2009 the federal budget posted its first deficit in a decade, at 5.9% of GDP.
For 2010 the government predicts the deficit will swell to 6.8%. This reflects a conservative oil price assumption, and most private economists anticipate a lower spending gap. But despite the best efforts of the Kremlin's resident fiscal hawk, finance minister Alexei Kudrin, expenditures are not likely to be cut—while revenues are highly levered to commodity prices. In a recent speech to parliament, prime minister Vladimir Putin indicated that expanding social spending programs remains at the top of the government's agenda. The Russian budget allows for a total eurobond issuance of $18 billion in 2010. Even after the recent issuance, Russia's sovereign debt is the lowest of the G-20 as a percentage of GDP. Markets permitting, Russia may try to tap investors again sooner rather than later.