ASIA'S EL DORADO
By Michael Shari
Global Finance sat down with Alisher Ali, founder of the largest investment bank and asset management firm in Mongolia, to get his take on the world's fastest-growing economy.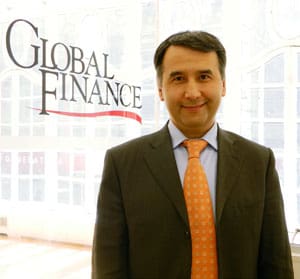 Educated at Columbia and Oxford, Uzbekistan-born Alisher Ali is a classic frontier market strategist. He sees remote, resource-rich Mongolia at roughly the same stage of development that Brazil, Russia, India and China had reached in the early 1990s—when few investors anticipated how rich the BRICs would become.
Alisher cut his teeth as an investment banker at Credit Suisse First Boston in Zurich and London and at Renaissance Capital in Moscow long before he moved to Ulaanbaatar, the capital of Mongolia, as a pioneer of the former Soviet republic's capital markets. Three years ago he founded Silk Road Finance. Now with 50 employees, Silk Road Finance runs Eurasia Capital, an investment bank that raised more than $150 million for its clients last year; and Silk Road Asset Management, which invests money for local entrepreneurs.
ASTONISHING GROWTH POTENTIAL
The Silk Road chairman sees Mongolia becoming a "global natural-resources powerhouse" thanks to recent discoveries of massive deposits of coal, copper, gold and rare-earth minerals. As a result, the IMF predicts that Mongolia's economy will grow by an astounding 20% this year and 30% next year.
The country's 2.7 million people stand to get rich quick—assuming the government can effectively funnel inflows to the population, and that the population—a big portion of which still follows a traditional nomadic herder lifestyle—wants to participate in the changing economy. GDP per capita has risen sharply from just $500 a decade ago, when Mongolia ranked among Asia's five poorest nations, to $3,000 now, and Ali expects it to reach $10,000 in the next five years. That would make Mongolia Asia's fifth-richest country after Singapore, Japan, Brunei and South Korea. By 2030, he expects it to reach $60,000, which would make Mongolia Asia's richest nation.
Ali expects Mongolia's investment banking sector to grow five times faster than the economy. His investment bank will face growing competition in Mongolia, he notes, as global investment banks hop on the high-growth bandwagon. Goldman Sachs already bought a 4.78% stake in Trade & Development Bank of Mongolia, the country's oldest bank, in February. "There will be strong independent players that will be replicating what we have done over the last three and a half years," he acknowledges.
But the prize is not the domestic stock market, with a market cap of $1.6 billion. It's 25 foreign companies that hold assets in Mongolia but trade on international exchanges. Ali estimates the current worldwide Mongolia-related market capitalization at about $25 billion. Just over half of that is in Ivanhoe Mines, a Canadian company 51% owned by Rio Tinto that trades on the Toronto Stock Exchange and NYSE. It has a joint venture with the Mongolian government for the monstrous Oyu Tolgoi mine—which has an estimated $600 billion in copper and gold deposits, according to Ali. Eurasia Capital has invested about a third of its balance sheet in such companies. "We wouldn't have a business if these companies did not exist," he notes.
FRONTIER MARKET RISKS
But Mongolia is no less unpredictable than any frontier market. The International Finance Corp ease of doing business survey ranked Mongolia 86th this year, and public opposition to pollution caused by the mining industry has led Mongolia's government to declare mines located near rivers and forests illegal.
In August 2009, the government ruled that all local transactions must be conducted in the tugrik, the local currency, after it depreciated steeply. And recently the IMF warned that the country's runaway growth could bring inflation. The country has a long way to go in creating the physical and social infrastructure to effectively manage growth, however its politicians are trying to learn from previous mistakes in other high-growth markets.
In the back of most investors' minds also lurks the fear of an invasion and resource grab by either of Mongolia's two giant neighbors, Russia and China, similar to that which Tibet suffered at the hands of Beijing in 1949 and Afghanistan endured from Moscow in 1979. To that end, Ali describes the Mongolian government doctrine to cultivate friendly relations with a metaphorical "third neighbor"—international investors from powerful developed nations who would cause a scene should their assets be lost abruptly.