A JOURNEY, NOT A DESTINATION

By Michael Shari


Global Finance

hosted a delegation of Turkish business and economic representatives for its Global Salon this month, engendering a lively discussion on growth and investment, the economy and Turkeys efforts to qualify for EU membership. Many Turks now see the journey as more appealing than actually achieving much-vaunted membership.

For the better part of a decade, Ankara has had an implicit agreement with Brussels that Turkeys goal, upon recovering from the catastrophic collapse of its financial system in 2000, would be to qualify to join the European Union as its second-largest member after Germany, according to Cevdet Akay, chief economist at Ko Finans and Yapi Kredi, the fourth-largest privately owned bank in Turkey.
Now as the EU struggles to extract itself from a financial quagmire that bears more than a passing resemblance to the one that Turkey has long since resolved, that once-lofty goal no longer holds much cachet for the vast majority of Turkeys population of 74 million people. Least of all does it appeal to a rapidly emerging middle class of still-young Turks who appear to be far more interested in spending their disposable income on replacing their tube TVs with flat-screen TVs, says Akay, than on building up a national savings account that, they believe, would be used to bail out their deeply indebted neighbors to the north.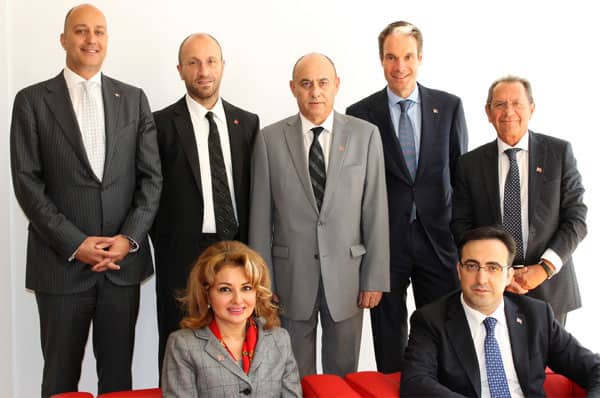 Clockwise from left: Levent Bilgen, Consul General of Turkey In New York; Cevdet Akay, chief economist, Ko Finans and Yapi Kredi; Blent Gentrk, vice president of MediaSa; Eugne Willemsen, president, Southeast Europe region, PepsiCo; Mehmet Akin Kozanolu, vice chair, International Investors Association of Turkey; lker Ayc, president, Republic of Turkey Prime Ministry Investment Support and Promotion Agency; Serra Akaolu, general manager, Citi Turkey.

The journey was more attractive than the destination. Even before the European crisis, I thought the journey was very crucial or even imperative. But the destination never looked too attractive to me, and it does not today. This happens to be the consensus in Turkey today as well. Would you want to be a part of this union? The answer is probably no, says the 53-year-old Akay, a former economics professor at Ko University in Istanbul.
Akays far-from-heretical views were echoed throughout a forward-looking discussion by a visiting Turkish delegation that included a senior government official and senior executives of Turkish and multinational corporations and financial institutions at the New York offices of Global Finance magazine on October 1.
Without suggesting that Turkeys economy, which is expected to grow by more than 5% this year, ought to stop for even an oil check to reflect on its journey over the past 13 years, they mapped out a high-octane route over the next 10 years to a far more ambitious destination.
Turkey would like to be among the top 10 countries in 2023, says lker Ayc, president of the Prime Ministry Investment Support and Promotion Agency (ISPAT), who says he reports directly to prime minister Recep Tayyip Erdoan. To get there, the government wants to increase exports to $500 billion a year (from an estimated $12 billion this year), raise GDP to $2 trillion (from $800 billion) and boost per capita income to $25,000 (from $11,000).
Ayc, Akay and the rest of the delegation envision the future Turkey as a regional economic superpower that will have stronger trade and investment ties with its neighbors in the Middle East than with the Europe to the north. They see Turkey building a long-elusive peace with the regions militant Kurdish minority, engaging with Iraq to build a wealthy oil enclave in the north of the war-torn country that will be filthy rich in 10 years, says Akay, like the Benelux region. In a solid gesture of religious tolerance, and to improve relations with its domestic Kurdish minority and with Islamic neighbors such as Iraq, prime minister Erdoan announced reforms on September 30, repealing a ban on women wearing head scarves at universities and strengthening Kurdish rights.
As part of its efforts to reach this dream of regional economic preeminence, the Turkish government is offering favorable tax terms to multinational corporations to use the country as a regional hub from which to run their operations in as many as 60 countries in Europe, the Middle East and Africa, says Ayc. It is also encouraging multinationals to transfer their newest technology to Turkish companies to help them manufacture more and bring the missing parts of the supply chain to Turkey. As a result, expenditure on research and development has almost doubled over the past decade, to nearly 1% of GDP, and the government is introducing incentives that it hopes will raise it to 3%.
The message does not appear to have been lost on the multinationals. More than 60 companies have moved their regional headquarters to Turkey because of the strategic geographic position of the country, says Serra Akaolu, general manager of Citigroup in Istanbul, which provides purely corporate banking services in Turkey. The number of multinationals in Turkey a decade ago was 5,600. Now we are looking at over 33,000. These are really striking numbers.


ANOTHER GREAT DECADE


This is going to be another great decade, given that a lot of the younger generation is going to get access to the workforce, says Eugne Willemsen, president for Southeast Europe at PepsiCo, which operates five factories that produce soft drinks and snacks in a country where the average age is 29 and 30% of the population is 18 or younger. That will propel further economic growth, which, clearly for consumer companies like ours, is very fertile territory.
Some Turkish companies are just as ambitious as the multinationals. Earlier this year, MediaSa, a conglomerate that owns a Turkish television network, shipyards and even a stem cell technology company, bought a Turkish online shopping website and formed a joint venture with Korean conglomerate CJ Group to buy Turkeys only online shopping network. The venture defied market research showing widespread distrust among Turks of merchants who sell indirectly over the phone, on television or over the Internet, says Blent Gentrk, vice president of MediaSa. He says the network is showing early signs of success among young, middle-class shoppers. Its to Turkeys advantage that a Korean company came to Turkey, says Gentrk. Now they are looking for other opportunities in Turkey, from food to movie theaters.
Its the kind of business deal that Akay believes has the potential to repair a chink in Turkeys armora low savings rate. As Turkeys youthful population boosts economic growth by spending, the government hopes foreign companies will bring in their cash to bolster savings. Turkey attracted $123 billion in foreign direct investment from 2002 to 2012, up from only $18 billion in FDI in the decade prior to 2002. Thats precisely the kind of fuel that Turkeys economic engine will need to achieve Ankaras vision for 2023.