NEWSMAKERS: THAILAND
By Kim Iskyan
In early May, Yingluck Shinawatra was a prominent business executive in Thailand.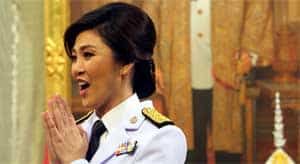 Shinawatra: Following in her brother's footsteps
Two months later, she became the country's first female prime minister. Her astonishingly rapid rise up the political charts came on the back of her exiled big brother, former prime minister Thaksin Shinawatra. Now her challenge is to break Thaksin's populist mold and try to mend Thailand's increasingly fractured body politic.
Thaksin, a former police colonel and telecoms billionaire, rode into office in 2001 by kicking sand in the face of the Bangkok establishment and appealing to the rural poor. But he was ousted from office in a military coup in 2006 and was sentenced in absentia to two years in prison for corruption. Although in exile in Dubai, he remains hugely popular, at least in the Thai countryside, for his rural-friendly policies. And with widespread support for his sister, the opposition party Puea Thai, the successor to Thaksin's People's Power Party, scored a resounding victory in the July elections.
The 43-year-old Yingluck was head of her brother's telecoms company, Advanced Info Service, Thailand's largest mobile carrier.
On the campaign trail, she promised that she wouldn't mimic her brother's policies, which—by appealing to Thailand's downtrodden peasant population—opened up deep fissures and terrified the middle class, bringing about political instability.
But some of her election promises, for example raising the minimum wage by 40% to 90%, smack of her brother's polarizing politics.
It is unclear whether Yingluck will lift charges against Thaksin. To prevent this, the local establishment could turn to the courts to disqualify Yingluck on a technicality and possibly try to dissolve her party altogether. Or the army may be called on to assist in overthrowing the government—which would make the 21st coup attempt since 1932, including 11 successful and 9 unsuccessful efforts.