MILESTONES: SINGAPORE
By Thomas Clouse
After a year in which its economy expanded at the fastest rate since it achieved independence in 1965, Singapore may be about to suffer a hangover.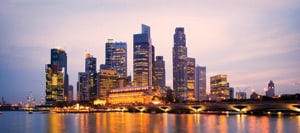 Too hot? Singapore aims for sustainable growth in 2011
According to preliminary government figures, the city-state's economy expanded by a blistering 14.7% in 2010 and was the fastest growing in Asia last year. The remarkable growth did not come smoothly, however. The economy showed drastic gains in the first half of the year, then contracted by an annualized rate of 18.7% in the third quarter, and finally returned to growth in the fourth quarter, when pharmaceutical manufacturing boosted the economy by an annualized 12.5%. For the year, manufacturing expanded by 30.4%, with construction and service-oriented industries up by 6.5% and 10.4% respectively.
These drivers will continue to support growth in 2011, but the pace of that growth is likely to slow, says G. Jayakrishnan, US group director of the government-sponsored International Enterprise Singapore. "We were coming off two years of below-trend growth. The economy was bouncing back from a very low base, and therefore the numbers look very large," he explains. "Going forward, our estimates are between 4% to 6% growth, which is more in line with long-term projections and a more sustainable rate of growth."
While the drivers of growth are likely to remain the same, the respective sizes of their contributions may change as manufacturing growth eases and finance and tourism growth accelerates. Kee Ee Wah, deputy executive director for government agency Contact Singapore, explains, "The services sector in particular is likely to play a significant role in the economy's growth, accounting for some two-thirds of GDP growth next year."
Last year's rapid rebound will also bring challenges for policymakers in 2011. Singapore's consumer price index (CPI) rose 3.8% year-on-year in November, its largest increase in nearly two years. The Urban Redevelopment Authority's private residential property price index rose almost 18% in 2010, prompting the government to raise down payment requirements.