NEWSMAKERS: MYANMAR
By Kim Iskyan
By winning a seat in the country's parliament in early-April by-elections, Myanmar dissident leader Aung San Suu Kyi ushered in a new era in the history of the country formerly known as Burma.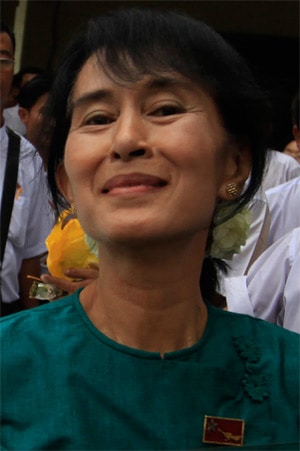 Suu Kyi's election brings hope for further political change
Photo Credit : SOE ZEYA TUN/REUTERS
Last year the government freed 66-year-old Suu Kyi, who won the Nobel Peace Prize in 1991, after she had spent nearly two decades under house arrest.
In a move almost as momentous, the country's one-year-old civilian government allowed the currency to float. With a newfound reformist trajectory reversing nearly five decades of authoritarian repression and global financial and economic isolation, investors are taking note of the potential for exponential development in Myanmar—a country of 50 million citizens.
The government is clearly pushing political and economic reform, as reflected in its suspension of the construction of a Chinese-funded dam over concern for its environmental impact, after coming under intense public pressure.
The by-election that brought in Suu Kyi was held to fill 45 seats in the 664-seat parliament. It will do little to change the underlying dynamics of power in a body largely controlled by former generals, but Suu Kyi's victory shows that change is under way.
The managed float that replaced the official currency peg—at 6.4 kyat to the dollar—resulted in a dramatic revaluation of the currency, bringing it close to the previous black market rate of 800 kyat to the dollar. The prior regime of multiple exchange rates thwarted monetary policy and was a boon for corrupt officials. Critically, with the partial freeing and unification of different mandated exchange rates, the government will be able to effectively manage monetary policy. Beyond its economic and financial significance, the floating of the kyat shows that backing of reform within the government extends well beyond its most visible supporter, president Thein Sein.
Now that Suu Kyi and her opposition forces have a real voice, reforms are gathering steam. Western governments are likely to ease sanctions against the country, which would allow investment and jump-start trade flows. But after years in the dark, it will take Myanmar a while to get used to the light.