MILESTONES: TAIWAN
By Thomas Clouse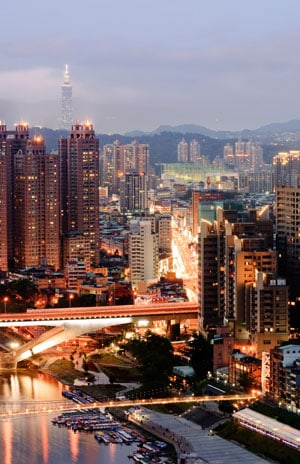 On the rise: Taipei prices
Taiwan's export orders hit a record high of $34.9 billion in August, up 23.3% year on year, according to the Ministry of Economic Affairs, with orders for IT and communications products soaring by 35.4%. For the first eight months of the year, export orders rose by 33.5% to $262.8 billion. The overall economy grew by 13.1% in the first half of the year, its fastest rate in more than 30 years.
The strong recovery boosted wages and lowered unemployment but also supported higher real estate prices, especially in the capital city of Taipei, where over half of the island's real estate transactions took place. The average price of an apartment in Taipei rose to T$14 million ($460,000) in the first eight months of the year, according to Taipei-based Sinyi Realty. This figure is 11.5 times larger than the average household income, up from 9.5 times the average annual income in the first eight months of 2009.
To cool the real estate market, Taiwan's central bank raised its benchmark interest rate for the second time this year on September 30. While real estate demand pushed up housing prices, overall inflation remained low, with the consumer price index up only 0.3% in September after falling by half a percent in August.
Taiwan's move to increase its benchmark interest rates contrasts with the decisions of central banks in Australia, South Korea, and Malaysia, which have avoided further interest rate increases amid signs that the global recovery may be slowing. Analysts believe Taiwan's move, in a low-inflation environment, reflects considerable confidence from the central bank in the island's underlying economic conditions.
Taiwan's growth is expected to moderate in the second half, with Taiwan's statistics bureau now estimating annual growth at 8.24% and the Asian Development Bank forecasting growth of 7.7%. In its most recent revision, the ADB cited "fading base effects, slower expansion in the PRC" and "the likelihood of only a modest growth in industrial economies" as reasons for the moderation in growth. Citigroup and the Economist Intelligence Unit (EIU) were more optimistic in their recent revisions, with both estimating annual growth at 9.2%.