NEWSMAKERS: HONG KONG
By Thomas Clouse
Newly elected Hong Kong chief executive Leung Chun-ying will face challenges on multiple fronts when he starts his new job on July 1.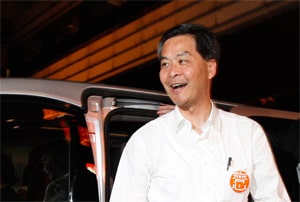 All smiles: A win for Leung but voters are unconvinced
Photo Credit : SIU CHIU/REUTERS
He defeated his primary rival and early favorite Henry Tang in March with over 60% of the total 1193 votes cast by the city's election committee after a controversy-filled campaign. Despite his win, Leung holds the support of only 40% of Hong Kong's citizens, according to public opinion polls.
Leung hopes to boost that support with pledges to address the island's toughest economic challenges, including a widening wealth distribution gap and rapidly rising real estate prices. A report last year from the think tank Civic Exchange concluded that income inequality in Hong Kong was the most severe globally among developed economies. The influx of investment from mainland China into the island's property market has further exacerbated the problem.
Winning support for reforms will be difficult for Leung, who faces suspicion from all sides. During the campaign, he eventually won the backing of the Beijing government while fighting against rumors that he is a member of the Communist Party. In 2003, Leung supported a controversial proposal giving the government more powers to censor speech and limit freedom to assemble, making him unpopular among democracy advocates.
Leung's speeches supporting populist causes have also prompted concern in the pro-China business community that new policies may undermine the tight relationship between business and government.
"Leung enjoys an exceptionally low approval rating at his election, which is the worst possible start any new chief executive can get," says Steve Tsang, director of the China Policy Institute at the University of Nottingham. "This is not a good result for Hong Kong. Nor, for that matter, [for] the Chinese government, which desires a strong and effective chief executive. Leung now has a mountain to climb in securing credibility."