BRAZIL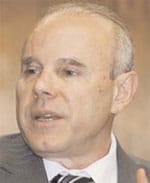 Mantega: Expects wealth fund to grow sharply.
The Brazilian government increased its primary budget surplus by 0.5% of GDP, or some $7.9 billion, as part of a plan to finance its new sovereign wealth fund. The government now has a surplus target of 4.5%, up from 3.8%. Finance minister Guido Mantega, who says the fund will be launched in July with some $200 billion, notes the increased surplus will help curb inflation.
Though initial plans called for the fund to be used for investments abroad, revised plans call for using it to acquire domestic bonds. While the fund will initially consist exclusively of local currency, the government has left open the possibility of including dollars at a later date. Mantega predicts the fund could increase to as much as $300 billion over the next three to five years.
The central bank's monetary policy committee hiked the benchmark Selic interest rate in June to 12.25% from 11.75% as inflation forecasts remain worrisome. Local economists polled by the central bank predict the Selic rate could end the year at 14%, as they expect inflation to also hit 4.81% at year-end—above the official 4.5% target. Economists expect the Selic rate to fall to 12.5% next year, with an inflation rate of 4.6%.
Shares in state power utility Eletrobrás rose sharply after reports indicated it will pay shareholders some $5.2 billion in dividends it has owed them since the 1980s. The company is expected to convert past-due dividends into new shares to pay off controlling shareholders, while minority shareholders will be paid in cash over 10 years. The Brazilian treasury holds a 54% stake in Eletrobrás. The payment scheme should facilitate access to international capital markets.
Fitch Ratings granted Brazil a coveted investment-grade rating of BBB- on May 29, a month after Standard & Poor's also lifted the country's sovereign rating to investment grade. Moody's still rates the country one notch below investment grade.
Antonio Guerrero