RUSSIA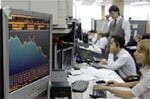 The global flight from risky assets saw $1 trillion wiped off Moscow's stock market.
Russia continued to be buffeted by the global financial crisis, with the country's stock index plummeting nearly 70% from all-time highs posted in May, destroying roughly $1 trillion in shareholder value. After repeated efforts by the Kremlin throughout September and mid-October failed to rejuvenate the market, promises of state cash investment into shares and massive liquidity injections into the frozen interbank market helped boost shares off of three-year lows.
Like other emerging markets, Russia has been at the mercy of the global flight from relatively risky assets. But a series of blunders—the most recent of which includes the tragicomic and seemingly random opening and closing of the country's stock exchange by regulators in recent weeks in response to gyrating share prices—suggest that the steep valuation discount accorded to Russian equities relative to other emerging markets will remain.
Among the most prominent victims of the financial crisis in Russia have been the country's oligarchs, as the combined wealth of Forbes magazine's 25 wealthiest Russians fell by an extraordinary $230 billion, according to Bloomberg. One of the apparent winners in the ongoing shakeout is Mikhail Prokhorov, formerly a major shareholder in metals company Norilsk Nickel, who in late September bought half of Russia-focused investment bank Renaissance Capital for $500 million, less than a quarter of its valuation just a year earlier.
The turmoil has spilled over into Russia's real economy, too. Steelmaker Severstal announced it would cut its October production by as much as 30%, and rival Magnitogorsk Iron & Steel Works said it would cut output by 15% and lay off a tenth of its workforce. Many analysts anticipate that GDP growth, which has ranged from 6% to 9% over the past decade, will decelerate dramatically in 2009.
In mid-October Russia pulled its troops out of buffer zones close to the breakaway regions in Georgia, as Russian president Dmitry Medvedev called for an end to confrontation.
Kim Iskyan