NEWSMAKERS: MEXICO
By Valentina Pasquali
Still struggling with drug-related violence that has killed more than 60,000 people in the past six years, Mexico is a country on the mend.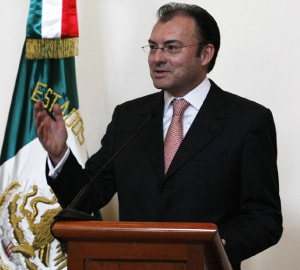 Finance minister, Videgaray, will target energy and fiscal reforms
At least this is the assumption recently inaugurated president Enrique Peña Nieto is counting on as he sets out to repair the nation's image as a lawless land of cartels and poverty by zooming in on the economy.
A key figure in the government's push to usher in an era of growth is finance minister Luis Videgaray, a long-time ally of Peña Nieto who is regarded as both a skilled economist and a talented politician.
"He comes from a very solid economics background," says Duncan Wood, director of the Mexico Institute at the Woodrow Wilson International Center for Scholars in Washington, DC. "He will work very easily with central bank governor Agustín Carstens, and he is very close to the president." According to Wood, Videgaray is a fiscal conservative whose appointment signals to international capital markets that Mexico is on the right track. "His political experience, and the fact that he has learned to navigate the halls of power in Mexico, is a great bonus," adds Wood.
Videgaray, 44, has an undergraduate degree in economics from the Instituto Tecnológico Autónomo de México, the country's most prestigious university, and a PhD from the Massachusetts Institute of Technology in the US. He has worked in the private sector as an investment banker and in the federal government, where he served as finance minister of the state of Mexico when Peña Nieto was governor.
"He is widely recognized for having restructured the finances and the pension plan of the state of Mexico," says Roberto Newell, vice president of the Mexican Institute for Competitiveness. "I expect from him a very orthodox financial policy, where government income and expenditures are well matched."
Some observers worry that the comeback of the Institutional Revolutionary Party (PRI), which dominated Mexican politics for 70 years before being ousted in 2000, might mean a return to the profligate fiscal policies of old. "The PRI has changed, and the appointment of Videgaray is one indication of that," says Wood.
In 2013, Videgaray will be leading the charge on two of the government's most ambitious plans: oil reform to open up Mexico's strictly regulated energy sector and fiscal reform to boost tax revenue.