NEWSMAKERS: VIETNAM
By Thomas Clouse
Nguyen Tan Dung, the Vietnamese prime minister who guided the country through its entry into the World Trade Organization in 2007 and successfully navigated the financial crisis of 2008, is set for a second five-year term in office.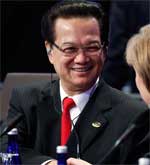 PM courts controversy over reform plans
Vietnam's National Assembly confirmed Nguyen Tan Dung as prime minister in July. During Dung's first term in office, the country grew rapidly, averaging 6.7% annual GDP growth from 2007 to 2010, according to IMF figures.
In the past year, however, Dung and his economic policies have drawn criticism at home and abroad. Much of that criticism has centered on the failure of state-owned shipbuilding giant Vinashin to make payments to international creditors on a loan issued in 2007. The company has struggled amidst shipmaking overcapacity globally as well as mismanagement and alleged internal corruption.
The government issued a letter in support of the loan in 2007, and for that, among other reasons, some creditors have pressured the government to cover the company's shortfall.
Inflation has also been a key challenge for Dung's administration. Expansions in bank lending fed several bouts of inflation in recent years, and prices are again on the rise. In July the consumer price index rose more than 22%, its largest increase since December of 2008. The rapid rise has caused disruptions in the value of the Vietnamese currency as well as hoarding of gold and foreign currencies.
Dung's reappointment as prime minister will give him freedom to more fully implement his policies and address the challenges of state-owned enterprise reform and inflation.
Ernest Bower, senior adviser at the Washington, DC Center for Strategic and International Studies, explains: "After two cabinet shuffles in 2006 and 2007, and now the ability to name his team, Dung has essentially consolidated bureaucratic power and is accountable for Vietnam's policy direction through 2015."
The parliament has, however, put in place some checks on Dung's power, primarily through the appointment of his political rival Truong Tan Sang as president, which is generally a ceremonial office. "The party, ever cautious and conscious of the need to maintain control, has carefully organized leadership to ensure that if Dung falters, levers can be pulled to guide him, primarily through positioning Truong Tan Sang as president," says Bower.