Hyundais choice of Slovakia as the site for its first European car plant attests to central Europes allure to foreign investors. While Hungary and Poland were the darlings for most of the 1990s, the Czech Republic has attracted the largest inflows per head. Yet the regions business environment still needs further reform.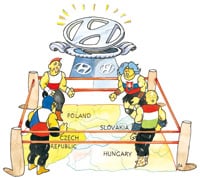 As the leading central and east European accession candidatesPoland, Hungary, the Czech Republic, Slovakia, Slovenia, Estonia, Latvia and Lithuaniagear up to join the European Union (EU) on May 1, they can pride themselves on their far-reaching political and economic reforms since communism collapsed in 1989.
As the London-based European Bank for Reconstruction andDevelopment(EBRD) stressed in its 2003 TransitionReport,These processes of structural and institutionalreform, greateropennessto trade and increased foreign direct investment (FDI)tend to be mutually reinforcing in terms of their impacton overalleconomic performance, helping to sustain further progress in transition and to support integration into the single European market. While EU membership should spur more trade and investment, the central European countries are already more integrated into the global economy than the southern European states were just prior to joining the EU.

How they stack up

Hyundais decision to pick Slovakia over Poland to build its first European car assembly plant has turned the spotlight on central Europes investment climate. How do all four countries compare?

Slovakia is now the favored location, particularly for manufacturers.

Prime Minister Mikulas Dzurindas six-year stint in power has transformed the countrys business environment into one of the most competitive in Europe, with an across-the-board flat-tax of 19%, far-reaching welfare reforms and more-flexible labor laws. Between 2000 and 2002 alone, FDI grew by 41%, compared with 38% in the Czech Republic and a 34% drop in Poland,

according to consultants McKinsey. Slovakia has good infrastructure and the lowest labor costs in the region, although its public sector still needs further reform.

The Czech Republic is alluring because of the countrys high purchasing power (Prague is the wealthiest region in east Europe, followed by Bratislava and central Hungary, according to the Economist Intelligence Unit), advanced infrastructure, highly skilled labor force and central geographical position.

Part of the credit for the boom in FDI since 1998 goes to CzechInvest,

the inward investment agency, which introduced a competitive system of incentives, including training grants.

Hungarys reformist image has been tarnished by reckless public-sector wage rises and deteriorating macroeconomic fundamentals, including a swelling current-account deficit and rising inflation. The countrys competitiveness has waned as a result of slowing exports and buoyant domestic demand. FDI inflows fell to 1% of GDP in 2002 from 4.4% in 2001, while there was an outflow of investment capital in the first half of 2003. These net outflowsalthough forcing the country to rely on hot money to finance its current-account deficitare partly due to big investments by Hungarian companies abroad. Hungary needs to streamline its notoriously bloated public sector, cut red tape and reform its fraud-ridden welfare state.

Poland is now the least attractive central European economy. Its image has suffered over the past several years as a result of high-profile corruption scandals, stalled structural reformslarge-scale privatization has virtually ground to a haltcombative labor unions, poor infrastructure and stifling red tape. Poland has the highest labor costs in the region and one of the OECDs lowest employment rates. Its inward investment agency, PAIiIZ, has only recently been restructured in order to provide more attractive incentives to foreign investors. Polands large consumer market, however, is a boon for big retail chains, while its demographics (Poland is one of the youngest nations in Europe) are the most inviting in the region.
Over the past several years, huge tides of FDI have streamed into Hungary, Poland and the Czech Republic, while Slovakia, after eschewing the authoritarianism and populism of former prime minister Vladimir Meciar, has emerged as one of Europes most reformist and business-friendly governments. Accordingtofigures from the EBRDs Transition Report, between 1996 and 2002post-communist Europe as a whole sucked in $177 billion of cumulative gross FDI, with over 64% of these inflows going to the Czech Republic, Hungary and Poland. Since 1989 72% of net private capital flowsFDI, portfolio investment and other investments, including bank loansto the region went to central Europe and the Baltic states, 13% to south-east Europe and 14% to the Commonwealth of Independent States (CIS). Despite the war in Iraq, turbulence in the capital markets and the post-2000 global economic downturn, central Europe remains one of the most attractive destinations for FDI, with Poland ranking fourth in AT Kearneys 2003 FDI Confidence Index survey.

An Enticing Region

The appeal of central Europe is obvious: cheaper labor costs (roughly one-fifth of those in the EU); eye-catching growth potential (the regions GDP per head is still only 40% to 60% of the current EU average, while insurance premiums and bank deposits, relative to GDP, are only 54% and 60% respectively of the EU level, with Poland and Hungary vastly under-penetrated); a large pool of well-educated workers, rich in technical skills; good infrastructure; and a prized location at the heart of a soon-to-be-enlarged EU.
We are in the real geographical center of Europe, which is important for multinationals, says Jan Bajanek, the president of SARIO, the Slovak foreign investment agency. Peter Spanyik, his counterpart at Hungarys ITDH, the government agency responsible for attracting foreign investors, adds, We are doubly blessed because after accession we will have four non-EU neighbors [Croatia, Serbia, Romania and Ukraine] that will position us as a gateway to the new new Europe. Poland, the biggest central European country, offers foreign investors a large consumer market, with five cities evenly spread throughout the country with populations exceeding 575,000.
When communism collapsed in central Europe in 1989, large-scale privatization began in earnest. There was an awful lot to sell in this part of the world, says Sebastian Mikosz, vice president of Polands Information and Foreign Investment Agency (PAIiIZ). Unlike some other emerging markets, central Europe welcomed foreign capital with open arms despite attempts by nationalist politicians to keep strategic assets in state hands.
We were lucky because all our mainstream [political] parties agreed at the start of the [post-communist] transition that FDI was a must. The nationalists were always out of parliament, says ITDHs Spanyik. Hungary gained the lions share of foreign investment in east Europe in the early 1990s because of its conventional and transparent approach to state sell-offs. We did real privatization instead of distributing vouchers or selling to insiders. We sold our companies to multinationals for cash, got real owners which then engaged in real restructuring, he adds.
The Czech Republic and Slovakia have benefited from aggressive foreign investment promotion policies. In the Czech Republic the former social democrat government of prime minister Milos Zeman reversed years of murky privatization involving opaque domestic companies by embarking on a major foreign investment drive in 1998, partly aimed at bailing out the distressed banking sector. There was a radical change in government policy. The number one priority was to boost the competitiveness of the economy through foreign direct investment and to show Czechs the benefits of FDI. The success of Skoda [which has restructured and expanded since Germanys Volkswagen bought a stake in 1991] was very important in this respect, says Radomil Novak, the deputy chief executive of CzechInvest, the countrys inward investment agency. Slovakia has done an even more impressive job at wooing foreign investors following the arrival in 1998 of a market-orientated center-right government under prime minister Mikulas Dzurinda that quickly shed the countrys reputation as a reform laggard and international pariah. We launched ourselves on a path of bold political and economic reforms. The rapid increase in FDI since 2000 is partly due to our pro-reform image, says Bajanek.
The results have been remarkable. The $854 million Hyundai assembly plant in Zilina, a small town in northern Slovakia, will employ 2,400 workers (and another 7,000 at suppliers) and should start churning out 200,000 small passenger vehicles a year in 2006, which would give tiny Slovakia, with a population of 5.4 million, the highest per capita car production in the world. The Hyundai deal is the second major automotive investment in Slovakia in little over a year after Frances PSA Peugeot Citroen chose Trnava, in the western-half of the country, as the site for a new $745 million plant.
The Czech Republic has also lured foreign carmakers. In April 2002 Japans Toyota and PSA chose Kolin, a small chemicals town, to be the site of a _1.5 billion assembly plant in the biggest greenfield investment in the Czech Republics history. The investment was deftly coordinated by CzechInvest, which wins plaudits from multinationals for acting as a one-stop shop for Western investors, allowing them to cut through the bureaucratic rules that often stymie deals and offering them a range of incentives. Our role is to mediate between investors and the different government ministries. This is very attractive for investors because they have one partner to apply to and one partner to express their concerns to, says Novak.

Patchy Investment Climate

Despite the vote of confidence by many multinationals in central Europes investment climate, the business environment is far from perfect. In 2002 Hungary lost two major electronics plants to lower-cost China because of a sharp rise in the forint, slowing productivity growth and, most importantly, soaring wages. The highest-profile exit involved the closure of IBMs hard-disk-drive factory in Szekesfehervar, west of Budapest, with the loss of some 4,000 jobs.
I understand that this was a regional tragedy, but this is globalization. Whats important is that two-thirds of those workers were able to find alternative jobs. Hungarys future, moreover, is not in rock-bottom salaries but in higher-value products and services. In addition, rising labor costs is just one side of the coin. Higher salaries also mean higher purchasing power in the EU, Spanyik insists. Novak agrees and says the Czech Republic has been able to move up the value chain because of its well-educated workforce. We dont believe we want to be competitive in high-volume investments. Our future is in strategic services and research and development, he claims.
Central Europe is already winning high-profile services projects. DHL, the logistics group, announced last September that it would close its IT operations in Britain and Switzerland and invest _500 million over the next four years in a state-of the-art data center in Prague that will employ 1,000 workers. Poland is also attracting service centers specializing in accounting, human resources management and back-office functions as part of a wave of business-process outsourcing. Lufthansa, the German airline, has set up a European accounting center in Krakow, while Philips, the Dutch electronics company, has opened an accounting and finance center in Lodz, south-west of Warsaw. A recent report by the Warsaw office of McKinsey, the management consultants, says Poland, with its larger pool of highly qualified university graduates and a larger number of academic centers has the potential to create 500,000 new jobs within five years and take on the new role of Europes service center provided it radically improves its business climate.
All four central European countries suffer, to varying degrees, from thickets of red tape that burden business, inflexible labor laws that discourage part-time work and hinder job growth, courts that make it difficult to enforce claims and, as the EBRDs Transition Report aptly puts it, legacies of distrust in the state and governing institutions that fuel corruption. According to Transparency International, the prominent Berlin-based anti-corruption watchdog, Poland is the most corrupt central European country, ranking 45th out of 102 countries surveyed in the institutes latest Corruption Perceptions Index. In 2000 the World Banks Warsaw office issued a damning report on graft in Poland in which it detailed a catalogue of abuses, ranging from the petty to the high-level. Although graft is now much more of a mainstream public concern, largely because of a string of anti-corruption initiatives, Prime Minister Leszek Millers government, which has been enfeebled by a series of scandals, appears unable to root it out.
Poland is also at a disadvantage compared with its Czech and Slovak neighbors because of its shabby infrastructure. We have the biggest problems in the region largely because of our huge agricultural sector. We have not invested in motorways and roads because we have a social welfare budget not an investment budget. Another problem is that we have not marketed ourselves as well as we should. Our image has suffered. Investors always make up their minds through a perception-filter. But we are working on these things very intensively, says Mikosz.
The Czech Republic has also been sharply criticized for its slow-moving courts and red tape that impede the establishment and liquidation of businesses. In a hard-hitting critique of the Czech business environment entitled Agenda 2003, the Euro-Czech Forum, an umbrella group representing several western chambers of commerce in Prague, called for a speedy reform of the judicial system, the labor code, public procurement rules and bankruptcy legislation.
Yet while much needs to be done in central Europe to ease conditions for business, some positive changes have already occurred, notably in Poland, which has reduced corporate-income tax to 19% (compared with 28% in the Czech Republic, 19% in Slovakia and 18% in Hungary), introduced a new law on economic activity that should make it easier to set up a new business, and revamped its inward investment agency in the mold of CzechInvest. Hopefully we will soon have the same powers as CzechInvest, says Mikosz. But losing the Hyundai investment to Slovakia still hurts. We did everything we could to win it. But in this game, there are no points for second place, he laments.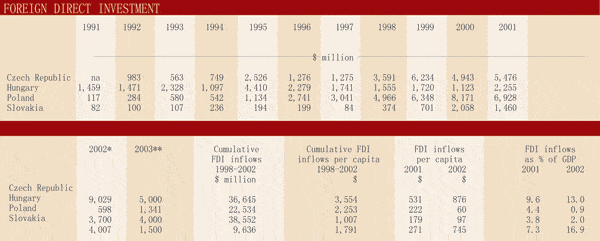 * Estimate ** Projection Sources:IMF, central banks and EBRD estimates


Nicholas Spiro