Russia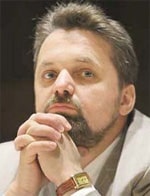 Murdered:
Andrei Kozlov

A Russian banker, Alexei Frenkel, whose institution had its license revoked in June 2006, was arrested in mid-January on charges that he was behind the murder of Central Bank of Russia deputy chairman Andrei Kozlov. The September 2006 killing was the highest-profile assassination of the Putin era and triggered concerns about a return to the lawlessness in the business arena that characterized the country in the 1990s.
The European Bank for Reconstruction and Development said it is reconsidering a loan to the giant Sakhalin-2 project after Royal Dutch Shell and its two partners, Mitsui & Co. and Mitsubishi Corp., were forced in December 2006 to sell a 50% stake in the venture to state gas monopoly Gazprom. While the withdrawal of the EBRDs $300 million loan wont prevent the $22 billion project going ahead, the issue served to highlight escalating concerns over the rule of law in Russiaparticularly where state interests are involved.
The anticipated first quarter IPOs of Polymetal, the worlds fifth-largest silver producer, and of Sitronics, a technology company, will represent an important test of investor sentiment toward Russian offerings after a record-breaking fourth quarter. Total Russian company share sales in 2007, including large offerings by state-owned banks Vneshtorgbank and Sberbank, could reach as much as $30 billion.
The death of the personality cult leader of Turkmenistanhome to the fifth-largest reserves of natural gas in the worldin mid-December raised the possibility of a power struggle in the country, with potentially significant implications for central Asian geopolitics, as Russia seeks to further consolidate its strong position in the country.
Norilsk Nickel CEO Mikhail Prokhorov was detained in the French Alps as part of an investigation into an alleged prostitution ring, which a company spokesperson called a big misunderstanding. At issue were Prokhorovs visits to ritzy ski resort Courchevel with groups of young Russian women.

Kim Iskyan