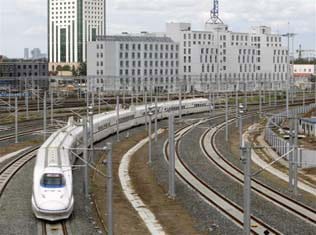 On track: China's stimulus package will boost railroad investment
China is pouring money into railroads and energy production as the implementation of the country's 4 trillion yuan ($585 billion) stimulus package moves forward. Urban fixed asset investment grew by 26.5% year-on-year in January and February. Spending by state-owned and state-holding enterprises increased by 35.6%, and railroad investment more than tripled. Investment in mining and cleaning coal increased 59.6%. The higher domestic spending, China's leaders hope, will offset the economic effect of the country's export contraction. Exports in January and February dropped 25.7%, contributing to weaker industrial production growth of 3.8%, down from 5.7% in December.
Recent drops in China's consumer and producer price indexes are stoking fears of deflation. The consumer price index dropped by 1.6% in February, while the producer price index dropped by 4.5%. Deflation, which encourages people to save, could impede China's efforts to boost domestic demand. The trend may not continue, however, as monetary expansion persisted in February after record loan growth in January. New loans for the month quadrupled from February 2008 to 1.07 trillion yuan, with the money supply increasing 20.8%, according to China's central bank.
Vehicle sales in China jumped 25% year-on-year in February, the first monthly increase since July. Sales of passenger cars, buses and trucks grew to 827,600, according to the China Association of Automobile Manufacturers. Responding to slowing sales, the Chinese government in January cut sales tax on small-engine automobile purchases and is planning to subsidize small-vehicle purchases for rural residents.
China condemned a resolution passed by the US House of Representatives calling on China to end repression in Tibet and reopen discussions with the Dalai Lama. The Chinese government made a formal complaint to the Obama administration, and state-owned media published editorials condemning the move by the US House.
—Thomas Clouse