Roundup
By Aaron Chaze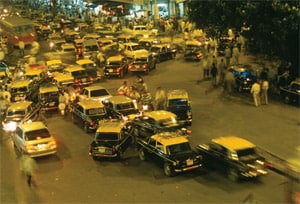 Desperate: India needs to spend $1 trillion on infrastructure
The Indian government is planning to establish an $11 billion infrastructure debt fund with the objective of investing in the power sector and in roads and ports. The fund will issue debt in order to refinance existing lending institutions. Funding is primarily expected from multilateral agencies such as the World Bank. Infrastructure investment in India continues to fall short of what is needed. According to a report by consulting firm Ernst & Young, India spends 6.5% of its GDP on infrastructure compared with $11% by China. The Indian Planning Commission said recently that India needs $1 trillion in infrastructure investments between 2012 and 2017.
While the Indian government is working to open up its infrastructure markets, the country's financial markets have evolved to the next level. British bank Standard Chartered, which has focused Asia heavily on Hong Kong and India for the past several decades, has decided to raise as much as $750 million in the first-ever Indian Depositary Receipt (IDR) issue. The bank plans on selling 240 million shares to Indian investors, with every 10 IDRs representing one share. India is the most profitable market for the bank after Hong Kong, and it earned $1 billion in pre-tax income for the first time from India in 2009.
An already vibrant Indian IPO market is expected to pick up further momentum by the middle of 2010 as several government-owned companies attempt to raise capital. Coal India, the single largest coal producer in the world, is slated to come out with the country's largest-ever IPO of $2.9 billion in July 2010. SJVN, a hydropower utility, raised $240 million recently, and Engineers India is expected to raise around $220 million in June-July 2010. Others are expected to follow soon after. According to Bloomberg data, Indian companies have already raised $11.9 billion through IPOs in domestic markets. This year is expected to be the best year ever in terms of capital raising, outstripping the previous best year, 2007, when Indian companies raised $17.4 billion.