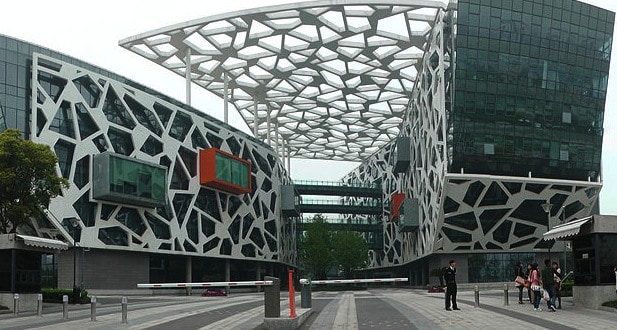 Alibaba's HQ in Hangzhou: Stealing a march on Wal-Mart

(photo: Thomas Lombard)
---
At his first public engagement as Alibaba Groups new CEO, Jonathan Lu didnt mince words. He says he expects Chinas largest e-commerce company to nearly triple the volume of transactions on its online marketplaces to almost $500 billion by 2016.
If Lu and Alibaba can pull it off, it would be a stunning achievement, one that would see a company founded in a Hangzhou apartment in 1999 overtake Wal-Mart Stores as the biggest retailer on the planet. Dramatically boosting sales, however, hinges in part on the companys ability to substantially speed up the time it takes to get products to customersno small task in China. Toward that end, Alibaba in May announced a partnership with several marquee Chinese companies to build a nationwide logistics network.
To be sure, Alibaba to date has made few missteps in conquering Chinas e-commerce sector. Having chased off foreign rivals, the etailer now controls more than three quarters of a market that is forecast to grow at 32% a year up for the next few years. And consider this: Less than half the population in China is hooked up to the Internet, leaving Alibaba with an as yet untapped audience that dwarfs consumer classes in other countries. Wal-Mart should take the challenge seriously.
Alibabas much-anticipated IPO, in either New York or Hong Kong, has investors and analysts drooling at a potential pricing that would peg the valuation of the company at around $100 billion. And its not hard to see why Alibaba is valued so highly. Its three main unitsTmall, Taobao and Alipayare comparable to Amazon, eBay and PayPal. Tmall manages e-commerce operations for thousands of companies in China and is similar to Amazon. Taobao Marketplace, a rough equivalent of eBay, makes 20 million parcel deliveries daily, accounting for 70% of China's total. And processor Alipay handles all payments made to the company.
Lu, a former Holiday Inn manager who joined Alibaba a year after it launched, says the company is looking to raise between $18 billion and $25 billion from the stock offering, which it will use to help pay for a $16.3 billion investment in the companys logistics network. The goal? To cover the whole of China.
Such a network is sorely needed. Poor infrastructure across the vast countryparticularly away from the massive cities on the coastis the biggest hurdle to both traditional and Internet retailers in China. Currently, logistics operators are struggling to cope as the Peoples Republic evolves from an export-driven manufacturing economy to a more consumer-oriented one.
In May a consortium of Chinese e-commerce and logistics companies led by Alibaba announced plans to build the China Smart Logistics Network over the next eight to ten years.Former Alibaba CEO and founder Jack Ma will lead the consortiumdubbed Cainiao Network Technologyin developing the e-commerce delivery network. Major shareholders in the project include Alibaba, retailer Yintai Group, Chinese conglomerate Fosun International, a logistics firm and five major Chinese courier companies.
Alibabas management has long believed that logistics companies, couriers and e-commerce companies need to work together to tackle Chinas fragmented and skeletal parcel delivery network. By setting up warehouses across China and building a data system that tracks trade and delivery information for suppliers, sellers and buyers, Alibaba hopes to be able to guarantee deliveries between any two of Chinas 658 cities within 24 hours.
This is undeniably a tall order. Then again, Alibaba has already transformed one industry in China is less than 10 years. Why not another?