ROUNDUP
By Kim Iskyan
Inflation has in recent weeks climbed rapidly up the macroeconomic agenda in Russia, as the summer's wildfires and drought throughout the country decimated grain crops and triggered sharp price hikes. Inflation has long been the Achilles' heel of the Russian economy, and after inflation hit a post-Soviet low of just under 6% on a trailing 12-month basis as of late June, it looked as if victory was in sight. But forecasts now call for inflation to reach 8% to 9% for the full year, with clear upward pressure. As a result, the government is likely in coming months to apply ad hoc price controls, particularly on retailers and food producers. Growth in government-regulated tariffs—critical to funding investment in the country's antiquated public utilities—will also likely be lower than previously anticipated. Also, erosion in the purchasing power of the population stemming from higher inflation will probably move the government to increase social spending in coming months.
In recent months the government has already substantially increased social spending—pension payments are up 45% in 2010, for example—with an eye on the 2011 parliamentary elections and the March 2012 presidential elections. At an annual gathering of Russia watchers in early September, prime minister Vladimir Putin reiterated that he and president Dmitry Medvedev would together decide which one of them would run for the presidency; no decision is likely on the matter until the summer of 2011 at the earliest. In the meantime, investors will continue to focus on the dynamics of the relationship between Putin and Medvedev. During the meeting, Putin said that he would continue to honor the Russian constitution, under which he would be free to serve two additional terms, of six years each.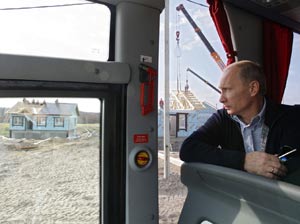 Building support: Putin has been working to improve his standing among voters
During a speech at an economic forum north of Moscow in mid-September, Medvedev highlighted the need for further democratic political reforms in Russia as part of his broader modernization effort to reduce the dependence of the Russian economy on hydrocarbons. But he cautioned that any change would be gradual. Putin has placed less emphasis on the modernization agenda and continues to focus on Russia's position as a major energy producer.
Regional elections on October 10 may serve as a barometer of popular support for United Russia, the party of power. The government was roundly criticized for incompetence in its handling of the disastrous wildfires that swept through large swaths of the country this summer, but it is unclear whether voters will punish United Russia at the polls. The approval ratings of Putin and Medvedev dipped in the wake of the wildfires but have since recovered. If voter turnout in upcoming elections is lower than anticipated, and if opposition candidates do better than expected, some regional leaders will likely be dismissed, and social spending to curry favor with voters will be bolstered.
In late August, Putin waded into the long-running corporate battle between Oleg Deripaska, the head of aluminum producer Rusal, and Vladimir Potanin, who leads Russian investment vehicle Interros, over control of metals giant Norilsk Nickel. Deripaska and Potanin both hold roughly a 25% stake in Norilsk and have been at loggerheads over control since Deripaska acquired the shares in early 2008. Deripaska has been pushing for Norilsk Nickel to issue an outsize dividend, in large part so that he can funnel cash to troubled Rusal; Potanin has been resisting Deripaska's efforts and in June was able to secure de facto control over Norilsk via a board election that Deripaska disputes. Putin in late August appeared to throw his weight behind Potanin, calling for Norilsk to focus on reinvestment rather than returning cash to shareholders. Potanin also garnered a critical debt refinancing agreement with state bank VTB for Interros. Although the Kremlin declared that it would not take a stake in Norilsk, in the long term the Russian government may want to develop a national champion company in the metals sector, possibly with Norilsk as a foundation.
Reflecting the continuing warming in US-Russia relations, Putin in early September described president Barack Obama as a "profound" person and said that his views largely coincided with Russia's positions. The comments were in marked contrast to Putin's expressed view last year, when he described former president George W. Bush in similar terms but did not characterize Obama as positively.