NEW TARIFFS TO COST FOREIGN AUTOMAKERS
By Thomas Clouse
Amid charges that US companies sold automotive parts at prices below production costs, the Chinese government has said it will impose tariffs on imported US-made products.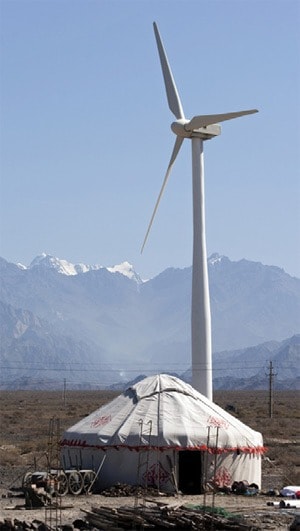 Harnessing wind power in China
Plus, it has removed the automotive industry from its list of strategic industries for foreign investment. The decision to remove the automotive industry from its list of favored industries could increase investment and taxation costs and slow approvals for foreign automakers. Growth in China's automotive market slowed drastically last year: Automotive sales increased by 37% in 2010, according to research firm JD Power, but were up only around 5% in 2011.
The State Grid Company of China announced on December 25, 2011, that it had opened the world's largest energy storage facility for wind and solar energy—partnering with electric automobile producer BYD to design and build the facility. China has invested heavily in alternative energy but faces challenges in storing that energy, owing to the sporadic nature of wind and solar energy generation.
The new storage facility is one of many steps taken by Chinese energy companies in recent weeks to meet the country's growing demand for power.In January, PetroChina and Sinopec, China's two largest oil companies, announced new investments in North America, while China's LDK Solar announced plans to purchase German solar cell maker Sunways and expand projects in the US.
China's two largest video-sharing sites are suing each other over copyright infringement. The conflict between NYSE-listed Youku and Nasdaq-listed Tudou stems from rights to entertainment programs, including many Taiwanese and foreign television shows. Chinese Web portals have competed fiercely for such programs, pushing up prices and cutting into profits. Despite rapidly rising revenues, both Youku and Tudou reported losses in the third quarter of 2011.
As government controls on traditional television continue to tighten, the Internet has become a popular venue for entertainment programs in China. While the dispute between Youku and Tudou is bringing more attention to copyright infringement issues, the increased visibility could result in more scrutiny from government censors.