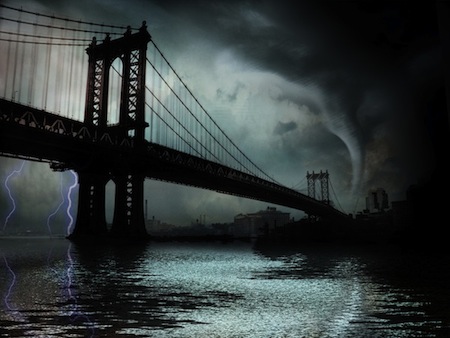 ---
Globally, this winter will be remembered for record flooding, drought, polar vortex and snowstorms. It follows a pattern of increasingly extreme weather events over the past few decades.
Weird weather presents major problems for supply chains, and 77% of companies believe climate change has the potential to significantly affect their revenue according to research published last year by the Carbon Disclosure Project (CDP) and Accenture . The research highlights the fragility of global supply chains and the significant near-term risks that climate change presents.
Just-in-time delivery requires highly networked economies and provides little room for error; when one link in a supply chain fails, it can shock entire industries. The Japanese tsunami, floods in Thailand, Superstorm Sandy and Icelandic volcanic ash clouds all wreaked havoc on global supply chains. Such cataclysmic events expose the vulnerabilities of supply chains, which have been developed to economize normal business conditions and have no built-in leeway to withstand catastrophic disruptions.
At a recent Global Finance Salon talk on the impact of climate change on the markets, Markus Schomer, chief economist at PineBridge Investments, revealed that although seasonal effects are factored into economic forecasts, they understate the influence of weather events. As these become increasingly extreme, it seems myopic and foolhardy to undervalue the impact.
Even "most sustainable" companies—those that adopt successful sustainability approaches such as stores, local and regional shipping routes, distribution hubs and "in-country" logistics to their last-mile logistics—fall down when it comes to supply chains beyond their own borders. They have little or no influence over far-flung value chains, which are likely to be at most risk to extreme climate events, and any risk management solution needs to cover the entire supply chain, not just that last mile.
Having woken up to the dangers of climate change, companies now need to assess all aspects of their supply chains and start building in resilience, both at home and abroad. If a business has no comprehension of the climate risks across its entire supply chain then how can it respond when threats materialize?
The Global Risks 2014 report by the World Economic Forum identifies extreme weather events and climate change as among the five most likely threats facing the global economy and climate change as one of the five with the most potential impact. Worryingly, most CEOs are not yet embracing energy efficiency improvements, let alone tackling supply chain risks.