BANKING ON AFRICA
By Erik Heinrich
A continent-wide boom is shaping a new breed of pan-African lenders.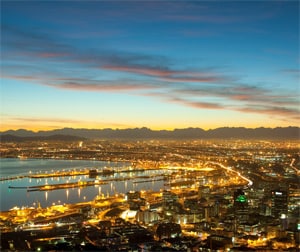 The future has never looked brighter for sub-Saharan Africa. Many of its economies are expanding at annual rates of 6% or more, led by oil-rich Angola and Ghana, who have reported compounded GDP growth of nearly 10% over the past five years. As a result, African banks with aspirations of becoming important regional players are scrambling to plant their flag throughout the region, eager to cash in on an economic boom sweeping the continent from Lagos to Cape Town.
Togo's Ecobank is a prime example. It now has operations in 32 countries, more than any other pan-African lender. Ecobank last year acquired Nigeria's Oceanic Bank and Trust Bank of Ghana to give its continental expansion plans a lift. Overnight it jumped from being Nigeria's number 14 lender by assets to number five, positioning it to become a top-three bank in West Africa's biggest economy. The Trust Bank acquisition made Ecobank Ghana's biggest lender. Both purchases were paid for with shares to minimize strain on the balance sheet. Standard Bank of South Africa was probably the first African bank to actively pursue a pan-regional growth strategy. Morocco's Attijariwafa Bank has also grown aggressively throughout West and Central Africa. The bank chose to diversify outside its borders mainly owing to the financial crisis in the eurozone, which is Morocco's key export market. Low banking penetration in retail and wholesale lending is a key business driver, according to Attijariwafa's chief executive, Mohamed El Kettani. He wants to grow his company's footprint from 12 to 20 countries by 2015, partly by adding all members of Ecowas (Economic Community of West African States) into his banking mix.
The United Bank for Africa—based in Nigeria—now operates in nearly 20 countries, including Kenya and Mozambique. Its primary motivation for pan-African expansion is to diversify beyond Nigeria's oil-dependent economy. UBA's medium-term goal is to have its foreign subsidiaries account for half its assets, compared with slightly more than 15% today, thereby building insurance against any precipitous fall in domestic revenues caused by a drop in the price of oil.
ENABLING TRADE
"An important contribution of pan-African players is in regional and international cross-border trade for businesses and large corporates," says analyst Voyt Krzychylkiewicz with SBG Securities in South Africa. "Providing a singular transactional platform for multinational companies makes it easier to manage payments and cash balances across borders and is an important business differentiator."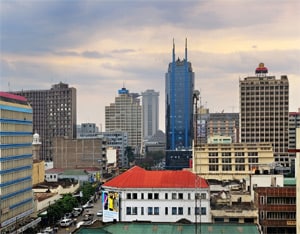 Building a presence in Nairobi: Ecobank and UBA are profiting from Kenyan ventures
Facilitating African trade in everything from copper and electronics to telecom equipment and wholesale goods is a natural fit for the continent's biggest banks. But what is revving up Africa's economic engine to new highs? Certainly the continent has benefited from a global surge in commodity prices over the past decade, spurred by hot demand from emerging BRIC economies, including China and Brazil. Consider that Africa has 10% of the world's oil reserves, 40% of its gold and more than 80% of strategic minerals chromium and platinum.
However the continent's commodities boom is only part of the narrative behind Africa's economic revival. Natural resources, and the related government spending they financed, generated about 32% of Africa's GDP growth in recent years. The remaining two-thirds came from other sectors, including transportation, telecommunications and manufacturing.
Taken together, all these business-friendly developments have spelled opportunities for forward-thinking African banks who are bulking up their balance sheets by expanding into retail banking, trade finance for SMEs (small and medium size enterprises) and multinationals and infrastructure development. "African banks are following their clients across the continent," says Rele Adesina, head of research at Stanbic IBTC Bank, the Nigerian subsidiary of South Africa's Standard Bank. "It's a natural progression."
In the case of Attijariwafa, the bank's investment in pan-African ventures totals $800 million, or about 25% of consolidated equity. A significant chunk of its business strategy is aimed at reaching the continent's unbanked masses, but its initiatives include partnering with SMEs to finance trade and underwriting large-scale development and infrastructure projects. For example, it has financed an international airport in Mali, a major mining project in Gabon and highways in Senegal.
One of the key reasons these banks have been so successful is that they target market segments out of the purview of global banks that have a foothold in the region. Plus, they focus on understanding neighboring cultures and needs. Attijariwafa, for example, benfits from the commonality of the French language—introduced in the region more than 100 years ago when West Africa was controlled by France.
STRONG PROFITABILITY
Despite a rapid increase in available credit, bank profitability across Africa has remained strong, thanks in part to increased regulatory capital ratios introduced in 2009 during the global recession, according to a recent World Bank report, co-authored by Michael Fuchs.
"African banks are following their clients across the continent"
– Rele Adesina, Stanbic IBTC Bank
As a rule, African countries whose banking sectors are least developed are particularly attractive for lenders, especially in cases where macroeconomic fundamentals are strong but banking penetration is low. Topping this list are Angola, Mozambique and South Sudan, all of whom are riding a commodities-fueled economic boom, and Ethiopia, which is growing at a rate of about 10% a year. Each of these African countries has an unbanked population of at least 75%.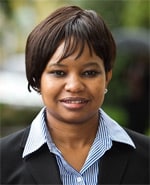 Kamau, Brookings Institute: Ecobank has reported a profit in Kenya for the past two years
When it comes to exploiting retail opportunities in underserved markets, having a presence across many countries is the key to success on the ground. That's because although the margins in retail are small, this segment's contribution to the bottom line increases with each new customer.
This contribution has become especially clear with the advent of mobile and so-called agency banking, which utilizes post offices and retail outlets as impromptu bank branches in rural Africa. The smart thinking is that the bottom of the banking pyramid is bigger than the top in Africa, offering perhaps the biggest bang for the buck over the long run as clients graduate from mobile money transfers to more sophisticated insurance products and consumer loans.
Ecobank has expanded into East Africa in recent years for just this reason. "Ecobank is doing well in Kenya," says analyst Anne Kamau of the Africa Growth Initiative at the Brookings Institute in Washington. "In the last two years it has reported a profit."
UBA has expanded into Benin, Chad and Sierra Leone, all of which have small economies and comparatively small populations, because there is money to be made in retail banking.
Western multinational banks have not adopted similar expansion strategies in Africa in part because the crises of the past few years have curtailed risky expansion in developing countries—and anything else that could result in further losses and increased balance sheet risk. Indeed, French banks once had a significant presence in West African countries—including Senegal, Côte d'Ivoire and Cameroon—but this is no longer the case. In their place pan-African banks have picked up the slack, according to the World Bank report.
CHINESE INVESTMENT
Chinese banks, meanwhile, are making their own move into the region. The recent $3 billion China Development Bank loan to oil-rich Ghana illustrates the potential that the entry of new investors, from China and elsewhere, has for funding African growth and reducing regional reliance on European financing.
But China is also casting its shadow over Africa in more subtle ways, by partnering with the same pan-African banks who are successfully planting their flags across the continent.
Bank of China, the most international of Chinese banks, last year branched out into West Africa by striking an alliance with Togo's Ecobank. The Ecobank China branch that opened recently in Accra, Ghana, has an equal number of employees from Ecobank and from Bank of China—illustrating the inside influence of the Togolese bank's new Asian partner.
Industrial and Commercial Bank of China, the world's biggest lender, with a market capitalization of more than $200 billion, paid $5.5 billion in 2008 for a 20% stake in South Africa's Standard Bank, the continent's biggest lender, in order to take advantage of its extensive African network.
Some market watchers have criticized China's approach to Africa for being focused on its national economic interests without consideration for the impact on Africa's region and people. As trade links with East Africa have ramped up, for example, Chinese companies have brought in the Bank of China to take care of their needs. "They don't want to support the domestic financial sector," says the Brookings Institute's Kamau. "That's not good business."
Sub-Saharan Africa's economic and banking boom is unlikely to come to a halt anytime soon, but the continent still faces some fundamental challenges. "Poor infrastructure and lack of skilled individuals makes it difficult to unclog bottlenecks in the economy," says SBC Securities' Krzychylkiewicz. Also, Africa's financial sector suffers from relatively weak risk management and limited supervision, which could result in an epidemic of bad loans, given the continent's fast credit growth.
Still, pan-African banking is riding high on a wave of economic optimism that is expected to maintain its momentum for some time to come.