EMERGING MARKETS ROUNDUP

Icelands Reykjavik Geothermal will launch a $2 billion project in July to build a power plant on an imploded volcano in Ethiopias Rift Valley. The plant, slated to begin operations by 2020, will have a generation capacity of 500 megawatts of electricity.

The deal, for which the builder expects to raise some $500 million in financing from equity partners, marks a further opening to foreign-energy-sector investors by the Ethiopian government, which has led a state-dominated market economy since the 1990s. Energy sector development remains a key priority for the government in Addis Ababa, with government-owned utility Ethiopian Electric Power Corporation also building a $4.1 billion hydroelectric dam that will generate 6,000 megawatts of electricity when it is completed in 2018.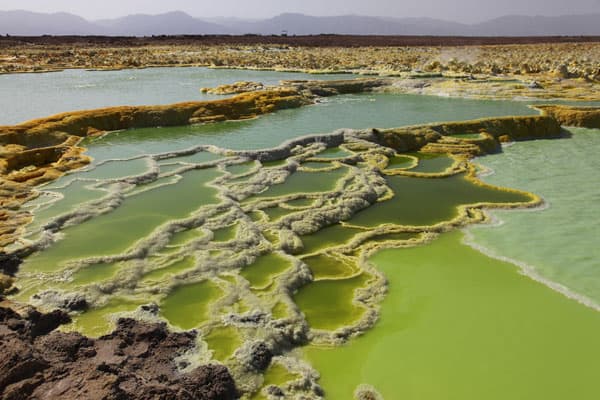 Ethiopian volcano site of new power plant

Ghana has launched a new commodity exchange that promoters hope will become a West African regional trading hub. The bourse was initially established through a public-private consortium that includes top-tier local financial institutions, with the government holding a minority stake.
Reports indicate the government plans to divest itself of the investment by midyear. Heirs Holdings, a Nigerian investment firm, has reportedly expressed interest in acquiring the governments shares. The Ghana Commodity Exchange (GCX) will deal mainly in agricultural products, as the country is an important producer of cacao, oil palm and cassava.
Nigerian president Goodluck Jonathan has ordered an audit of the state-owned Nigerian National Petroleum Corporation, following allegations that $20 billion in oil revenues remain missing. The controversy began last year after central bank governor Sanusi Lamido Sanusi sent president Jonathan a memo alleging there was $50 billion missinga figure he recently revised downward.
Sanusi has since been ousted. NNPC officials deny the allegations. A 2012 fuel subsidy scam, involving $17 billion in payments to companies for fuel that was never delivered, remains unprosecuted. [For more on this story, see our Newsmakers piece "

Nigeria: CB Governor Ouster Poses Risks

"].