CORPORATE FINANCING NEWS — MERGERS & ACQUISITIONS
By Gordon Platt
Consolidation in the US airline and global telecom industries has kept merger activity going in the past few months. The proposed merger of United Airlines, based in Chicago, with Houston-based Continental Airlines, if approved by regulators, would create the world's largest airline. At the same time, a multitude of mergers in the telecom sector and the introduction of fourth-generation (4G) wireless technology are changing the dynamics of that industry, as market consolidation accelerates.
The telecom sector has surpassed financial services as the most active area for M&A; so far this year, according to Dealogic. The financial services industry has held the lead for the past four years.
Falling revenue and growing convergence between mobile telephony, Internet and fixed networks are driving the consolidation of the telecom industry, according to Uwe Neumann, equity analyst at Credit Suisse, based in Zurich. In a report released early this year, Neumann forecast that telecom mergers in 2010 could surpass the record €500 billion ($620 billion) record set in 1999.
"In light of the growing demand and use of smartphones, mobile Internet provides an attractive growth area, but successfully developing this new segment will first of all require investment," he says. "The growing flood of data in mobile telephony networks requires capacity increases—and these are costly."
The second-strongest factor behind M&A; activity in the sector has been the growth in emerging markets, which is continuing at an above-average rate, Neumann says. In addition, telecom firms currently have a relatively low level of debt and are obtaining favorable terms to borrow, he says.
Meanwhile, Germany auctioned new 4G mobile frequencies in May, raising $5.3 billion for the country's treasury. Deutsche Telekom and two UK-based companies, Vodafone and O2, won the most sought-after frequencies, which are useful for supplying rural or remote areas with wireless signals and Internet service.
The incentives for businesses to continue consolidating are considerable, Neumann says. "In our view they are greatest in the case of the two big markets: the US and Germany," he says. In the US, a price war is raging on the mobile phone market, which could drive the weakest operators closer together, he says. In Germany, the 4G network expansion might seem too expensive for the smaller telecoms, he says, which could make mergers more likely.
In January, Mexican wireless service provider América Móvil acquired domestic rival Carso Global for $24.3 billion. It also bought a 40% interest in Mexican fixed-line operator Telmex Internacional for $6.6 billion. Meanwhile, Telefónica, based in Spain, is seeking to purchase the 50% stake that it does not already own in Brasilcel from its joint venture partner, Portugal Telecom. Brasilcel owns 60% of Vivo, Brazil's leading mobile-phone company. Telefónica hopes to merge Vivo with its Brazil-based fixed-line operator, Telesp.
Russia's largest long-distance telephone service provider, Rostelecom, plans to merge with seven state-run regional telecoms to boost efficiency and realize cost synergies. Meanwhile, AT&T; and Etisalat, based in Dubai, are seeking a stake in Reliance Communications, based in India, one of the world's fastest-growing telecom markets. Bharti Airtel, the leading telecom in India, recently completed its acquisition of 15 African subsidiaries from Kuwait-based Zain for $9 billion.
In the largest telecom merger in the US so far this year, Qwest and Century-Link announced a merger agreement in April that is valued at $22.4 billion, including the assumption of $11.8 billion of Qwest debt. Last year CenturyTel became CenturyLink following its $11.6 billion merger with Kansas-based Embarq.
Although many more mergers in the telecom industry are likely, analysts forecast no other big airline merger in the US unless the price of fuel rises sharply.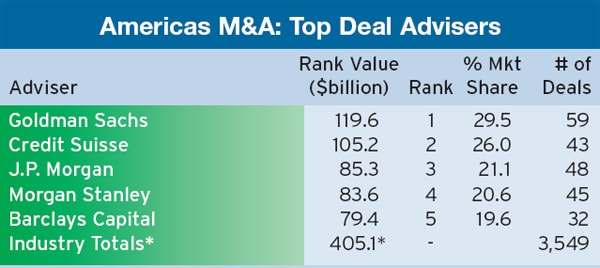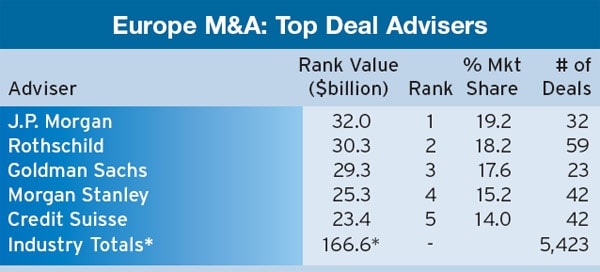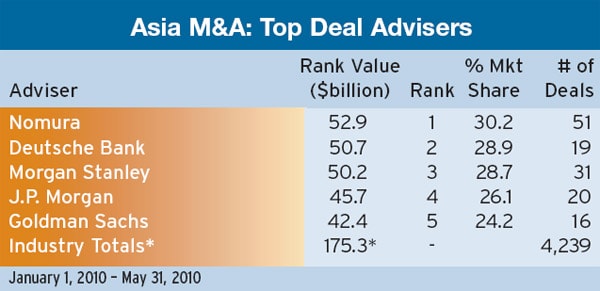 Source: Thomson Reuters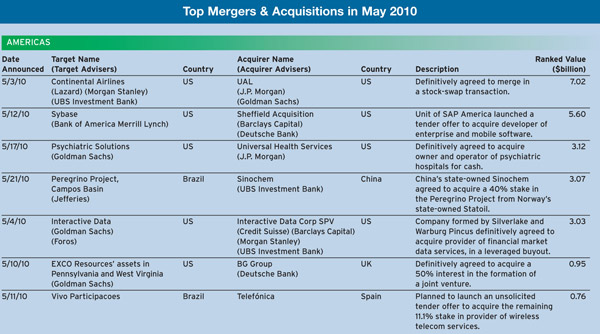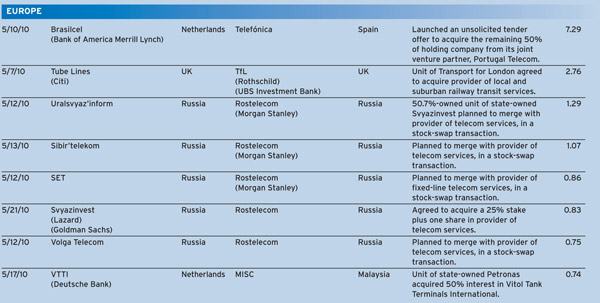 Source: Thomson Reuters