REGIONAL FOCUS
By Thomas Clouse
With China's economy slowing, investors are pondering where the next big growth story will come from in emerging Asia. Many are betting on the ASEAN countries, which face regional, economic and political hurdles.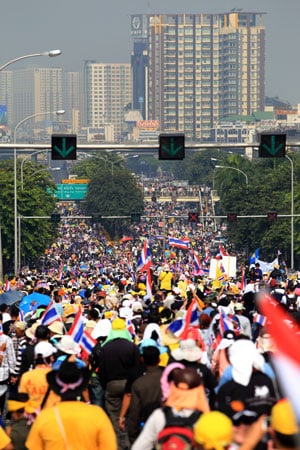 As China's economy matures, investors are increasingly looking south of its borders for the next big growth story. Thailand, Vietnam and Cambodia are all pushing to be part of that story.
The three countries are increasingly working together and with other countries in the region to lower trade barriers and offer attractive destinations for investment and consumer goods markets. However, they must overcome significant regional and domestic challenges.
Lackluster global growth is one of those challenges. Traditionally, consumer markets in Europe and the United States have fueled Asia's export-centered growth model.
The financial crisis in the USA and subsequent sovereign debt crisis in Europe dampened consumer demand, forcing countries in Southeast Asia to find new markets for their goods.
Regional economic powers, especially China, have taken up some of that slack in consumer demand. In 2007, China was the fourth-largest trading partner of the Association of Southeast Asian Nations (ASEAN), which includes Thailand, Vietnam and Cambodia, as well as seven of their neighbors. The European Union and the United States were ASEAN's two largest trading partners. By 2012, China had grown to become ASEAN's largest trade partner, total trade having increased from $170 billion in 2007 to $320 billion in 2012.
The rapid growth in trade with China could slow, however, as the Chinese economy readjusts itself toward slower, more sustainable growth. China's economy grew by 7.7% in the first three quarters of 2013, compared with annual growth of 7.8% in 2012 and 9.2% in 2011. In November, Chinese leaders pledged to strengthen land rights and social safety nets as well as liberalize interest rates and other aspects of the economy in order to further shift the economic drivers away from investment and toward consumption.
MOVEMENT OF LOW-END PRODUCTION
That shift will likely result in slower growth for many of the companies in Southeast Asia that trade with China. As China works to make its investment more efficient, raw material exporters in Southeast Asia and around the world are unlikely to see the rapid growth rates that Chinese domestic demand helped them attain in recent years.
The flip side of the coin is that the general trend toward consumption-led growth in China could benefit some companies in other industries. China will continue to be the world's supply chain center. But given the government's focus on increasing consumption and improving living conditions, the costs of simple manufacturing in China are likely to rise, which could herald the movement of low-end production into countries like Vietnam and Cambodia.
Domestic-led consumption in China means the market for finished products coming from within and outside the country will grow. For countries like Thailand, which serves as a production hub for much of Southeast Asia, opportunities to export into China are likely to increase.
China is only part of the region's growth story, however. Intra-ASEAN trade increased from $400 billion in 2007 to $600 billion in 2012. The growth in trade among Southeast Asian countries could accelerate in coming years if ASEAN is able to move forward with plans to form a single economic market and production base by the end of 2015.
SIMMERING REGIONAL TENSIONS
Plans for the ASEAN Economic Community (AEC) include infrastructure development, tariff elimination and improved capital and labor mobility, among other measures. According to ASEAN's progress report for the years 2008 to 2011, the AEC accomplished more than 65% of its goals.
More challenging work lies ahead, says Dr. Vannarith Chheang, senior fellow and member of the board of directors at the Cambodian Institute for Cooperation and Peace and a lecturer in Asia-Pacific studies at the University of Leeds. "The more difficult 35% that still needs to be done is the liberalization of investment and services, including intellectual property rights, and encouraging competition. These are very politically sensitive policies."
Income disparity could further complicate regional economic integration, he believes. The average per capita income in ASEAN varies from $52,000 in Singapore to $2,500 in Cambodia. Thailand's per capita income is more than double the level in Vietnam and three times the level in Cambodia.
Chheang explains: "Without narrowing the income gap, Southeast Asia cannot fully integrate because it will be vulnerable to regional tension. Less developed countries will be under the influence of other countries, while they need to be neutral to fully complete the market."
Regional tensions surfaced in November 2012 at ASEAN's annual meeting. The host country, Cambodia, which has strong trade ties with China, issued a final statement without mentioning territorial disputes between member states and China in the South China Sea. Representatives from the Philippines and Vietnam unsuccessfully requested a change in the wording, and the organization adjourned for the first time in its 45-year history without issuing a joint statement.
While the conflict cooled this year, solidarity will be an ongoing challenge for the AEC. Lower-income member states will understandably find it difficult to prioritize long-term regional goals over near-term economic gains. Meanwhile, China is showing signs of a more confrontational foreign policy. It claimed most of the airspace over the East China Sea.
Although China's defensive move does not directly impact Southeast Asia, ASEAN trades heavily with Japan, Korea, Taiwan and, of course, China. Maintaining healthy trading relationships with all countries involved could become challenging. Beyond that, China's competing claims for territory within the South China Sea could evolve into more direct confrontation with ASEAN members, forcing countries like Cambodia to choose alliances.
DOMESTIC ISSUES
Foreign policy issues are not the only challenges for Thailand, Vietnam and Cambodia. Each has domestic issues to overcome to ensure healthy growth and further economic development.
In Vietnam one of the most pressing issues is bank reform. Nonperforming loans (NPLs) account for around 8% of total loans at Vietnamese banks, according to the country's central bank. "Because most NPLs are issued to state-owned enterprises, you need dual reform of the state-owned sector and the banking system," says Chheang. The state-owned sector has many vested interests, however, making it difficult for the prime minister."
Cambodia also has domestic issues to face, with corruption topping the list. In December, Transparency International ranked Cambodia 160 of 177 countries in its 2013 Corruption Perceptions Index. The poor showing comes after allegations of voting irregularities in the country's July 2013 elections.
Transparency International Cambodia, which conducted a sample-based observation of that election, recommended an independent investigation into the results. The ruling party in Cambodia ultimately declared victory, although the opposition party continues to protest publicly and to call for fresh elections.
Syetarn Hansakul, senior economist at Deutsche Bank in Singapore, sees some positive effects of the political developments in Southeast Asia. "The increase in public awareness is a positive trend overall. People are demanding more from their governments," she says. "How it is going to be achieved is still a question mark."
Question marks also plague Thailand's political prospects. In December prime minister Yingluck Shinawatra dissolved parliament and called for new elections after opposing party members left their posts and their supporters held protests around the country. The political crisis is one of many Thailand has faced in recent years, impacting the country's growth potential.
Hansakul explains: "Thailand is well placed to have a regional leadership role but has been distracted by internal politics. In terms of opportunity costs, the economy could perform better if consumer and investor confidence were higher." Thailand's economy has continued to grow, she adds, because of the strength of its private sector and public institutions such as its central bank.
Despite regional and domestic challenges, Thailand, Vietnam and Cambodia have considerable potential for growth and must work toward further integration with one another and their fellow ASEAN members. If successful, they will share center stage in Asia's ongoing growth story.