For the first time, Asia's super-rich have surpassed their North American counterparts in both population and wealth. China and Japan, in particular, stood out as wealth powerhouses despite a volatile year for Asian equity markets.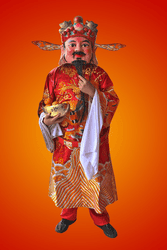 Asia Pacific's 5.1 million high-net-worth individuals (HNWIs) now hold around $17.4 trillion of assets versus the $16.6 trillion held by4.8 million wealthy North Americans, according to the annual global wealth report by consultancy Capgemini. HNWI wealth in Asia-Pacific increased 10% last year, five times North America's modest 2% growth rate.
Asia's star has been rising for some time. The region's HNWI population has doubled over the past decade, overtaking that ofNorth America in 2014. Countries like China and Japan have been responsible for most of the global growth, accounting for nearly 60% of the worldwide HNWI population growth in 2015. The HNWI population surge in the two countries was 16.2% and 10.9%, respectively.
Healthy Asian growth has helped mitigate contractions elsewhere. Global HNWI population and wealth growth in 2015 was a more subdued at 4.9% and 4.0%, respectively. The worst performer was Latin America, which saw its HNWI population contract by 2.2%, while their wealth fell by 3.7%. Much of this is down to political upheaval and market losses in Brazil, the region's largest economy.
Still, overall global HNWI wealth is expected to pass the $100 trillion mark by 2025, three times what it was in 2006. At the current rate of growth, Asia-Pacific is projected to account for two-fifths of the world's HNWI wealth over the next decade. That is more than Europe, Latin America, and Africa combined.
The rosy outlook is good news for wealth managers and theprivate banking industry, especially in Asia, but it does come with some caveats. In the report, Anirban Bose, Capgemini's head of banking and capital markets, warned that some firms risk losing money if they cannot keep up with technology.
"HNWIs and wealth managers alike are demanding richer digital functionality, yet less than half of wealth managers are satisfied with digital tools their firms provide," he said.He also notedthat financial technology companies compounded the problem by offering an effective alternative to face-to-face advice, adding: "The rapid advance of automated advice, for example, has become a viable option for many HNWIs, forcing firms to adapt and update their business models."