ROUNDUP
By Antonio Guerrero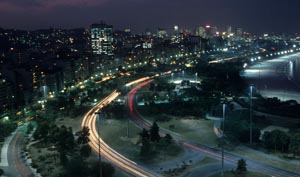 Brazil lights up at the prospect of increased foreign investment
Sinopec, China's second-largest oil and gas producer, is investing $7.1 billion in the Brazilian unit of Spain's Repsol YPF oil company. The capital increase, which gives Sinopec a 40% stake in the unit, will help Repsol develop offshore oil fields in Brazil. Repsol's Brazilian exploration plan calls for $14 billion in investments through 2019. Repsol initially considered selling a 40% stake in its Brazilian operation through an IPO. The deal marks China's largest foreign acquisition since last year's $8.3 billion outlay for Addax Petroleum, whose operations are focused on Africa and the Middle East.
Brazil's state-controlled oil company, Petrobras, is also substantially better capitalized now, following its successful $70 billion share sale in September—the world's largest IPO. The offer also increased Petrobras' public sector stake to 49%, from a previous 39.8%, after the government acquired $42.5 billion in new shares in exchange for allowing Petrobras to tap oil reserves.
The government has doubled the tax levied on short-term local bonds acquired by foreign investors to 4%. The hike aims to discourage speculative investments, which have boosted capital inflows and, according to the government, inflated the value of the currency. The real has appreciated by 37% in less than two years. The increased tax will not apply to FDI or stock purchases. In a parallel effort to deal with the rising real, the central bank has been intervening in currency markets through daily dollar purchases. Finance minister Guido Mantega triggered a heated global debate when he said Brazil is a victim of what he depicts as an international currency war, with emerging markets trying to counter the effects of monetary and foreign exchange policies in China, the US and Europe.
The Anfavea national motor vehicle makers' association more than doubled its 2010 output growth forecast to 13.1%, from a previous 6.5%. The trade group also predicts car exports will grow to 750,000 units this year, from an initial forecast of 620,000 units.