ROUNDUP
By Aaron Chaze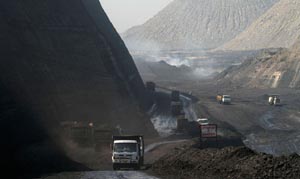 Mining a rich seam: Coal India lines up India's largest IPO
India's financial markets regulator, the Securities and Exchange Board of India (SEBI), says it will soon allow the auction of Indian government bonds to come under the increased investment limits for foreign institutional investors (FIIs). On September 23, the Indian government raised the FII limit in government bond auctions to $10 billion from $5 billion and, in corporate bond auctions, from $15 billion to $20 billion. Between January 1 and October 6, 2010, FIIs bought a combined $10.3 billion in government and corporate bonds. They also put a record $21 billion into Indian equities. India's central bank, the Reserve Bank of India, hopes the newly raised limits will help satisfy foreign investor appetite for Indian paper, especially for government issues.
Largely fueled by foreign institutions' enthusiasm for Indian stocks, the country's IPO market is on track for the strongest year ever. By the end of September 2010, Indian companies had raised Rs500 billion (approximately $11 billion). During 2007, which was the previous peak, Indian companies raised Rs522 billion during the entire calendar year. In addition to a number of smaller IPOs lined up for the last quarter of 2010, Coal India was planning to raise Rs160 billion toward the end of October, in India's largest IPO ever.
Running in tandem with the surge in investment into India is the continued strong growth in exports. Indian merchandise exports jumped by almost a quarter to more than $16 billion in August 2010 as compared with August 2009. August 2010 was the 10th consecutive month of export growth for Indian companies. During April-August 2010, Indian exports climbed to $87.5 billion, representing an even sharper rise of 28.6% over the corresponding period last year. Engineering exports reached $3.2 billion in August 2010, up by 16% from August 2009. According to the Engineering Export Promotion Council of India, exports of engineered products grew by 21% between April-August 2010 over a year earlier, to $17.6 billion. Engineering exports include heavy engineering goods, machinery and equipment.