UPDATE: BRAZIL
By Antonio Guerrero
Brazil's new president has already impressed the business community. But can she impress her own party?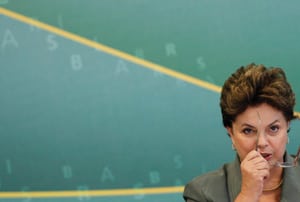 Brazilian president Dilma Rousseff, a former Marxist guerrilla fighter, has gotten high grades from the nation's business community since her inauguration on January 1. Business leaders are comforted by Rousseff's vow to continue the economic policies of her predecessor, Luiz Inácio Lula da Silva, who left office with an approval rating near 90%. Yet, analysts say, Rousseff is likely to face some friction points with the business community when the honeymoon is over, though tensions with her left-wing Workers' Party could be even greater.
"I am here to consolidate the transforming work of president Luiz Inácio Lula da Silva, with whom I have had the most vigorous political experience of my life and the privilege of serving the country, at his side, for the last few years," Rousseff said during her inaugural speech. She served as Lula's minister of mines and energy and, most recently, as his chief of staff. "The greatest tribute I can pay him is to broaden and take forward his government's achievements."
Demonstrating her commitment to furthering Lula's policies, Rousseff retained some of his cabinet members, including finance minister Guido Mantega. "President Rousseff intends to strengthen the actions of the Lula government," says Fernando Pimentel, Brazil's minister of development, industry and commerce. "Today Brazil is far better organized than it was in 2003, at the outset of the Lula administration. Our economy is experiencing one of its best moments. We have the lowest unemployment rate in history, the growth rate has more than doubled compared to 2003, we have ended a long period of dependence on the IMF, and we have succeeded in reducing the domestic-debt-to-GDP ratio," he adds.
Rousseff inherited an economy that grew more than 7% in 2010 and is expected to expand by as much as 5% this year. That situation has, however, presented the new administration with one of its key challenges—keeping inflation in check. Inflation last year ended at 5.91% and is projected to exceed 5% again this year, well above the 4.5% official target. Paulo Leme, chief Latin America economist at Goldman Sachs, predicts inflation will accelerate this year to 6.5%, driven by what he expects will be the government's inability to curb spending or halt the continuing appreciation of the currency, the Brazilian real. The real rallied 38% over the past two years.
The central bank raised its benchmark Selic interest rate to 11.25%, from 10.75%, in January—the first rate hike since July 2010—in a bid to ease inflationary pressures. The government also increased bank reserve requirements to put the brakes on lending. "Policy tightening will not be enough," Leme told participants at a Brazilian-American Chamber of Commerce event in New York in January. "Something will have to give; what will give will be inflation."
Tough Challenges Lie Ahead
Rousseff has her work cut out for her. "Since it's full steam ahead on the economic front, many think this is the time to tackle the structural issues that add to the cost of doing business in Brazil," says Robert Ellison, managing partner in the São Paulo office of law firm Shearman & Sterling. "Public education and healthcare need major reform, investment and a change in attitudes; labor laws are archaic and needlessly rigid, leaving businesses hidebound while generating few long-term benefits for the workforce; business taxes need simplifying and streamlining." Ellison suggests overhauling the regressive personal tax system "if Brazil is to gain a true social contract and take its place as a strong economy with a vigorous middle class".
Development minister Pimentel agrees about the urgent need for reforms and suggests the president is already taking action: "Brazilian entrepreneurs support the first actions of president Dilma Rousseff's administration and want a policy of continuity, but hope for the solution of infrastructure bottlenecks, as well as for a tax reform, actions to curb the appreciation of the real against the dollar, and investments in training," he says. "The president is aware of these expectations, and the government has been working to contain the appreciation of the real and promote effective tax changes that can quickly impact on improving the competitiveness of Brazilian industry."
Aloysio Vasconcellos, a Brazilian businessman who is president of US-based Westchester Financial Group, says trade must be a priority for the administration, though this will likely demand a significant currency devaluation. "Exports of industrialized products will have to be reactivated," he says. "For that, the local currency will have to be adjusted to favorable levels, which will imply some sort of devaluation. Experts contemplate a 30% adjustment," he adds.
There appears to be consensus among analysts that curbing government expenditure will also need to be at the core of Rousseff's economic program. Government expenditure jumped 22.4% in 2010, to around $350 billion, after a 14.9% increase the year before. The 2010 budget surplus fell short of the 3.1% official target, at 2.8%.
"Brazil is far better organized than it was in 2003, at the outset of the Lula administration"
"Our economy is experiencing one of its best moments" – Fernando Pimentel, Brazil's minister of development, industry and commerce
Whether the government will reduce spending or simply fine-tune remains to be seen. "We will work very hard in trying to improve the quality of public spending," planning minister Miriam Belchior said on a conference call with international analysts in January. "We know that it is very important to provide and deliver public services to the population, but I am certain that this can be done with greater efficiency. We believe that it is possible to do more with less."
Rousseff has already experienced a taste of the conflicts to come in her push to cut spending. While the nation's monthly minimum wage was raised 62% in real terms during the Lula administration, she supports a 6.8% hike this year, to some $327 a month. Yet, labor unions are seeking a raise that is nearly double the president's offer. Rousseff is standing firm. The budget ministry estimates that the government would need to increase spending by nearly $150 million for every one-real hike in the minimum wage, potentially derailing the administration's cost-reduction program.
"We think the biggest economic challenge for Rousseff's administration will be addressing the rapid expansion of public expenditures that is adding more fuel to the inflation bonfire, and that could leave the Brazilian monetary authority no other choice than to tighten aggressively the monetary grip so as to prevent the country from returning to a high-inflation environment," says Jankiel Santos, chief economist at BES Investimento do Brasil, the Brazilian investment banking arm of Portugal's Banco Espirito Santo.
The National Industry Confederation (CNI) has proposed that the government cut some $20 billion from this year's budget, though it insists the administration must be careful not to slash projects included within Brazil's Growth Acceleration Program (PAC), launched in 2007. A second phase of the program currently in effect, known as PAC 2, allows for total investments of nearly $500 billion, of which more than 18% will come from private sector outlays. Robson Braga de Andrade, president of the CNI, was encouraged by Rousseff's announcement during her first cabinet meeting of her intention to cut spending, as well as the launch of a "Competitive Management Council" to track public expenditures. "This measure leads to better governance, improving the quality of public budget control, an issue that was not a priority of previous governments for decades," says de Andrade.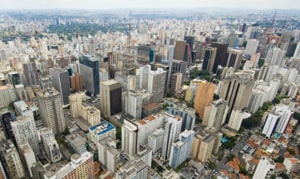 Business as usual? Corporations in big cities such as São Paulo are hoping Rousseff will simply perpetuate Lula's policies
How to cut spending while not alienating her political base might be problematic. "The key challenge for the Rousseff government is the balancing act between a tightening of fiscal and monetary policies with keeping GDP growth at a decent rate and maintaining a stable currency," says Josephine Shea, vice president and senior credit research analyst for emerging markets corporate debt at Hartford Investment Management. Shea notes that the current account balance deteriorated from a surplus of $7.5 billion in 2007 to an estimated deficit of $50 billion in 2010. "Rousseff will have to cut the deficit by cutting government spending; since she was elected on a socialist platform, this most likely will be a hard balancing act."
Jefferson Duarte, a finance professor at Rice University's Jones School of Business, thinks the friction between Rousseff and her own party could ultimately overshadow the tension with the business sector, particularly as the new president may have an even stronger pro-business stance than her predecessor. "Rousseff does not have the same clout in her party as president Lula; consequently, she may encounter strong opposition in her party when she tries to promote the pro-business reforms that Brazil needs," he says.
Robert Wood, a senior analyst and deputy director of country risk for Latin America at the Economist Intelligence Unit, is not as certain that Rousseff will introduce an aggressive pro-business agenda. "The business sector did not have high expectations for ambitious pro-business reforms," he says. "I think we are likely to see piecemeal, incremental improvements, but not the sort of reforms that would unleash Brazil's potential so that it could grow at rates of 6–7% annually. Instead, GDP will grow by around 4.5–5% in the medium term. "Wood predicts that Rousseff will pursue the more statist development model initiated by Lula during his second administration, particularly in the energy sector. "But Rousseff is pragmatic, and she will seek a role for increased private sector participation in some areas traditionally controlled by the state, such as the management of ports, roads and airports, in order to carry out badly needed infrastructure upgrades, not least as Brazil prepares to stage the 2014 FIFA World Cup and the 2016 Olympics," Wood adds.
Warren Cabral, managing partner of law firm Appleby's corporate and commercial practice in London, feels Rousseff's relative inexperience may work in her favor. "In general, Dilma Rousseff is expected to continue the same economic policy as the former president Lula da Silva, but this is the first time that she has held an elected position, and two things are possible: Either she will get bogged down in the realpolitik of elected office, or, being free of political debts from the past, she will have a freer hand."