Political reform and strong economic growth are propelling Chile's capital markets to new heights.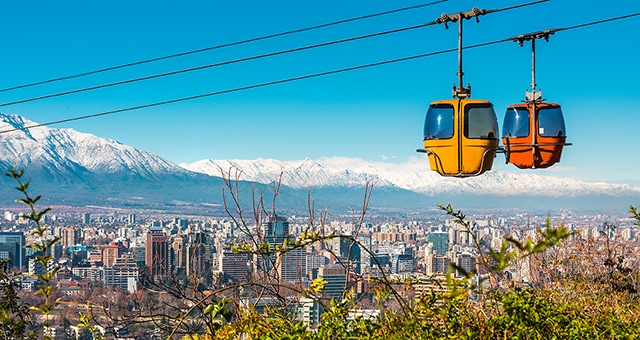 Chile's capital markets are bursting with activity as a strengthening economy and the expected passage of a string of reforms boost appetite for a flurry of deals in the equity, mergers and acquisition (M&A) activity and bond markets.
"A window has popped open," says an IPO banker in Santiago, adding that last year's successful, $533 million Mallplaza sale is boosting appetite for deals in the retail and consumer-goods sector. "There are several IPOs floating around."
Consequently, investment bankers are tripping over themselves to underwrite equity offerings in the country where three bellwether firms—retail giant Cencosud, rival Vivo and Tecnofast—are widely expected to sell stock to fund their aggressive expansions at home and abroad.
Already, the market has raised $329 million from equity sales so far this year, leading the region and trailing only behind Brazil, according to Dealogic. In 2018, IPOs and equity sales nearly doubled from 2017 to $3.6 billion. This year, they are expected to match or exceed those gains, according to bankers.
The M&A market is also gaining traction, with several transactions in the mining, fisheries and retail sectors set to hit the market in coming months, according to Rafael Wilhelm, managing director of M&A boutique Banmerchant in Santiago.
"2017 was difficult because of political volatility and tax changes but the market is reactivating and we could see action in big mining companies. There is lots of interest in the midsize market," Wilhelm told Global Finance, adding that company valuations remain attractive as GDP is set to grow between 3.25% to 4.25% this year.
Mauricio Carrasco, a senior economist at Econsult in Santiago, says the surge in deal making stems from rising investor confidence that President Sebastian Pineiro's game-changing tax and pension reforms will win Congress' blessing this year.
The tax reform in particular "is gaining a lot of attention. It is at an advanced stage and has good prospects to pass this year," he says. "The overhaul will see tax proceeds rise through digital collection improvements and a reduction in the number of taxes, helping Chile cut its fiscal deficit to 1.0% of GDP by 2022 from 1.7% last year, he said.
"After many years of an economic slowdown because the structural reforms, companies are finally starting to invest again and we see good prospects for the mining industry which is benefiting from recovering copper prices."
Amid this backdrop, the government has turned confident about Chile's outlook and credit worthiness, announcing plans to issue up to $8.7 billion in bonds in 2019, with $7.2 billion in local currency and $1.5 billion in the cross-border markets.