EMERGING MARKETS ROUNDUP: CHINA
by Thomas Clouse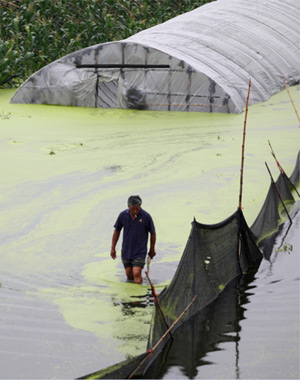 Floods devastate crops
Inflation in China accelerated in May to its most rapid rate in 34 months. According to the National Bureau of Statistics (NBS), the consumer price index rose 5.5% year-on-year in May, up from 5.3% in April. Food was the primary contributor to the increase, with prices jumping 11.7% year-on-year. The producer price index rose by 6.8%. In response to the higher prices, Chinese policymakers further tightened monetary policy in June, requiring its largest banks to keep a record-high 21.5% of deposits in reserve. May's figures did show some progress in the government's fight against inflation, with prices of existing homes decreasing compared with those of April in 23 of the 70 cities surveyed by the NBS.
Although real estate prices are showing some signs of moderating, weather conditions in China are pushing food and manufacturing prices higher. A severe drought plagued much of the country throughout the spring, reducing crop output and farmers' incomes while increasing food prices. Some areas along the Yangtze River saw water levels fall to their lowest marks since 1961. In mid-June, heavy rains ended the drought for parts of southern and western China, but also caused some of the worst flooding in more than 50 years. The flooding displaced residents, destroyed farmland and lowered manufacturing output. The reduced farm and manufacturing output will likely put more pressure on prices, potentially counteracting the government's efforts to tame inflation through policy measures.
Chinese Internet entrepreneur Jack Ma has caused international controversy by spinning off the online payment services arm of Chinese Internet giant Alibaba into a private company. While Ma says that he informed the board of directors of his plans years ago, the company's two largest shareholders, US-based Yahoo and Japan-based Softbank, are seeking compensation from Ma for allegedly separating the profitable payment service without board consent. Ma founded Alibaba in 1999, but Yahoo and Softbank now own approximately 70% of the company and both companies have directors on Alibaba's board. Largely because of Alibaba's success, Ma has built a reputation domestically and abroad for being one of China's most innovative and outgoing entrepreneurs.