The Brexit deadline is approaching fast but lack of detail makes planning a serious challenge for corporate treasurers.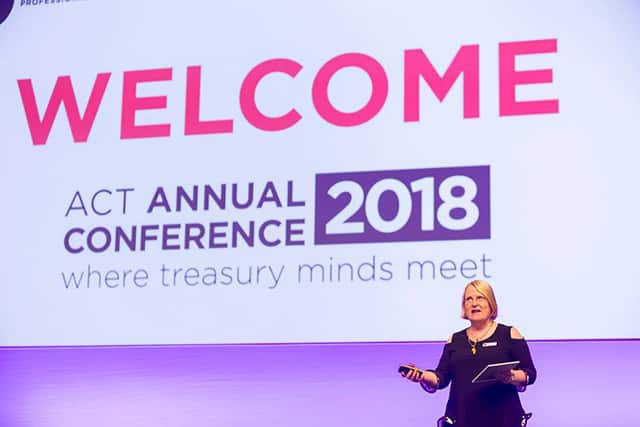 The risks facing the European economy from Brexit were a hot topic on the 15 May opening of the Association of Corporate Treasurers (ACT) Conference 2018 in Liverpool, UK. Economic stability, the legality of certain contracts, customs arrangements, and growth prospects all face an uncertain future during and after Britain's exit from the European Union (EU). Perhaps the worst-case scenario is a disorderly Brexit that will occur if the EU and UK cannot agree on withdrawal terms by the March 2019 deadline set when Britain's parliament voted to trigger the European Union Treaty's exit mechanism. A disorderly Brexit could mean falling back on standard WTO rules.
A live poll of the 1,100 treasurers attending the ACT conference about the status of Brexit planning at their companies found that:
23.9%–Haven't started yet (in "wait-and-see" mode).
31.1%– Have set up a committee to analyze impact.
25.0%– Have started but not progressed (awaiting final outcome).
7.2%– Have plans that need to be finalized.
12.8%– Have started implementing Brexit plans.
"All of our information tells us the majority of corporates aren't ready for Brexit," said ACT Chief Executive Caroline Stockmann, speaking to Global Finance. "It's a challenging issue and somewhat of a moving target presently. Treasurers aren't clear what they should be planning for until it is known whether the UK will stay in the customs union and on what terms; leave it with its own unique deal and tariffs; or suffer a disorderly Brexit."
Treasurers fear that by the time they get clarity on Brexit's details it will be too late to plan and implement possibly considerable changes to ways of working, business models and documentation.
Stockmann recently met with the UK Financial Conduct Authority to discuss continuity of contracts and other issues, noting that the government seems eager to understand the view from the real economy. "It is also not clear in my interactions with continental European treasurers either that they have thought through the implications for themselves of Brexit," she continued. "People are reluctant to prepare for something when they don't know what that something is."
An unquantifiable risk is something that every business hates and that is precisely what Brexit is and may be up until the last possible moment.
The Brexit transition deal—a period of stasis to ensure continuity for business until any new divergent rules come into place—hinges on a satisfactory final withdrawal agreement by the UK and remaining 27 EU member states.
Differences over British contributions to the EU budget have largely been resolved and an exit from the EU single market is certain with the present UK government since Prime Minister Theresa May wants to end the free movement of Europeans and the jurisdiction of the European Court of Justice (ECJ) that comes with it.
How goods move across borders with or without the customs union, whether there will be a border between Ireland and Northern Ireland (part of the UK), and whether banking and professional services will have "passporting" rights are also bones of contention in talks and sources of uncertainty for treasurers.