BRAZILIAN MALL OPERATOR RINGS UP SALES GAIN
By Gordon Platt
Brazil's retail sales rose more than expected in December—climbing 6.7% from a year earlier and suggesting that domestic consumption will remain strong despite global market conditions.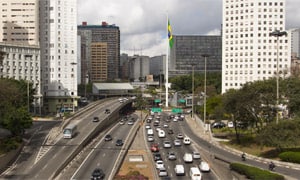 BR Malls, the largest mall operator in Brazil, with 46 malls, saw revenues rise 58% last year after of a number of acquisitions. It posted a gain of more than 50% in earnings compared with 2010.
With its growing middle class and a hike in minimum wage, a boom in credit availability and record-low unemployment, Brazil is a prime retail market. It is South America's biggest economy, and policymakers have lowered borrowing costs and cut taxes on consumer goods. Besides automobiles and construction materials, the demand for consumer products such as home appliances, computers and telecom equipment is growing rapidly.
Last November, BR Malls opened Mooca Plaza Shopping, the largest mall inaugurated in Brazil last year, strengthening its position as the leading mall operator in the important state of São Paulo.
The fragmented retail industry in Brazil creates a consolidation opportunity, according to Equity International, a US investment management company.
BR Malls specializes in managing shopping malls, leasing their spaces and managing commercial developments. Its occupancy rate averaged 97.6% in the fourth quarter of 2011. Same-store rent increased by 15.2% in the fourth quarter, while same-store sales rose by 8.8% from the same period a year earlier.