TURKEY'S LEADING GLASSMAKER EXPANDS ABROAD
By Gordon Platt
Glassmaker iecam has a near monopoly on the glass market in Turkey, where it operates a chain of retail outlets for its Paabahçe brand of glassware, and where its flat-glass output benefits from demand in the fast-growing construction industry.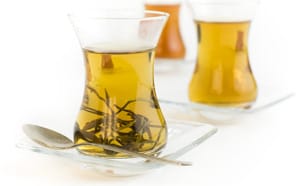 Paabahçe tea glasses
The industrial group also produces chemicals such as soda ash, one of the raw materials used to make glass.
With Turkish market shares of 85% in soda ash and 90% in glass packaging, such as beverage bottles, iecam is expanding throughout the region. Besides Turkey, it also operates in Russia, Bulgaria, Egypt, Georgia, Bosnia-Herzegovina, Ukraine and Italy.
Anadolu Cam, the group's glass-packaging brand, has a 40% share of the beer bottle business in Russia. The Russian government's anti-alcohol campaign, which prohibits beer advertisements, could adversely affect demand for beer bottles, according to a recent report by Erste Group. However, PET plastic beer bottles will also be banned, which should be a slight positive for Anadolu Cam.
In the glassware segment, Paabahçe Cam is a leading producer worldwide, with a 10% market share. iecam is considering spinning off Paabahçe in an initial public offering, but analysts say an IPO will depend on improved market conditions.
iecam opened an automotive-glass factory in Bulgaria last year. The group has invested more than $400 million in Bulgaria to create the largest glass plant in the Balkans, which will produce household glass and mirrors, and plans to double that investment if it can get tax breaks from the Bulgarian government.
iecam exports mainly to Europe and Russia, although it has customers in 140 countries. The company is investing heavily to increase its output of flat glass and glass packaging, which could put some pressure on its cash flow, according to Erste Group. iecam also faces higher energy costs.