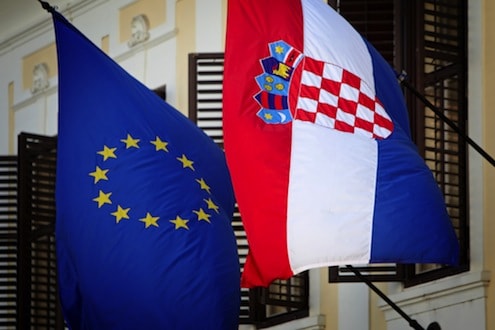 Croatia becomes 28th member of the EU
In 2004, when nine former Communist countries joined the EU, there were widespread celebrations at what was seen as the formal end of the Cold War. Three years later the two largest Balkan countriesRomania and Bulgariaalso joined the European mainstream, with both delighted to put dictatorship behind them. One could be forgiven, then, for not noticing that on July 1 this year

another post-Communist country was admitted to the EU: Croatia

.
Celebrations in Croatia were mutedindeed they were scaled back from what was originally planned, with few Western European leaders in attendance at the low-key ceremonies in Zagreb. And opinion polls suggest many of Croatia's 4.4 million citizens are decidedly lukewarm about membershipa contrast to the enthusiasm for all things 'EU' that swept countries such as Poland and Romania at accession…and still characterizes most of emerging Europe.
The last few years have not been kind to Croatia. Political disillusionment is rife following a series of high-profile scandals, most notably the jailing last fall of former prime minister Ivo Sanader for corruption. But the biggest shocks have been financial, with Croatia hit badly by the global economic downturn.
GDP this year will contract by 0.2% after several years of recession, while unemployment in this diversified economy is approaching 20%. It would be higher still if not for the boost provided by tourism in the summer months. Years of high current-account deficits have increased national indebtedness, and the average nonperforming loan ratio among the countries' 30 or so banks is 15% and rising. Unsurprisingly perhaps, foreign direct investment has slumpedwith investors scared away by high local costs, an inflexible labor market and an opaque business environment (Croatia ranks 84 out of 185 in the World Bank's latest Doing Business survey).
Peter Sanfey, Southeast Europe economist at the European Bank for Reconstruction and Development, admits that despite all the reforms that Croatia had to implement to join the EUand the country was more closely scrutinized than any other

it still has a lot of work ahead of it

. Key will be the reform of public administration so that it can actually benefit materially from accession, as well as much needed improvements in infrastructure so poorer areas can profit as much as wealthy Zagreb, Pula and Split.
"Zagreb should have access to 13.7 billion ($18 billion) of structural and other funds between 2014-and 2020 but we know from previous countries' experience it can be difficult to absorb this without detailed plans and projects," Sanfey says.
For this reason,

the EBRD and other international financial institutions are prioritizing the restructuring of public utilities, the energy sector and road and railway networks

. Tourism, manufacturing and, in particular, agribusiness are all seen as sectors with excellent long-term potential.
Yet before any of this can be realized,

Croatia's political leaders must begin to work toward reform

and do something to boost the national mood. Sanfey says citizens are suffering from a malaise not a crisis of confidence, but Croatia's biggest problem seems to be that it lacks purpose. Having spent so long traveling on the train to EU-hood, now that it has arrived at the station, it seems unsure of which direction to take next, or why.