Country Report | Cyprus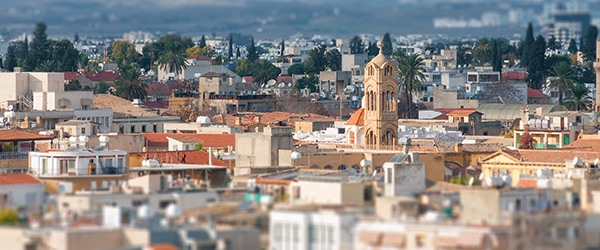 ---
In the darkest days of its $10 billion bailout by the Troika (the IMF, the European Commission and the European Central Bank) last year, when the Republic of Cyprus' second-largest bank, Laiki Bank, was closed and many depositors saw their savings disappear, some people muttered that things on the island of Aphrodite would never be the same again. However, amid continuing harsh austerity measures, things are—very slowly—starting to recover, alongside restructuring that will change the focus of the economy.
According to the EBRD, which Cyprus joined this year for a finite period to help facilitate transition, GDP in 2014 should contract by 3.5% before flattening out next year, with 0.2% growth forecast. Though hardly encouraging, it is better than the earlier Troika forecast of a 4.2% decline for 2014, with the EBRD predicting that growth wouldn't resume until after 2015. The multilateral agency has been actively involved in helping Cyprus restructure its financial sector, move forward with privatization and facilitate corporate restructuring, particularly of SMEs—which are the lifeblood of Cyprus's economy.
"We've been very impressed by the way Cyprus has managed the crisis, and at the resilience of its people: The efficient functioning of its institutions and public administration have been extremely beneficial," says Peter Sanfey, EBRD's lead economist for southeastern Europe.
Observers say clear progress is being made. In September the Troika said there had been advances in bank and economic restructuring, though it warned that Cyprus needs to tackle nonperforming loans; these are currently around 47% of all bank loans, equivalent to around €30 billion ($38 billion), and are proportionately even higher in the construction sector, where an estimated 72% of loans are NPLs, according to Central Bank of Cyprus figures.
The bank sector as a proportion of GDP continues to fall fast—it is currently worth around 300% of GDP against 800% before last year's bailout—with the island keen to boost expertise and investment in other areas. Privatization will soon get under way,
with Cyprus Airways already attracting interest from Ryanair and the Cyprus Telecommunications Authority undergoing restructuring ahead of a planned sale. The energy sector is also undergoing much-needed restructuring.
That's not all. The key tourism industry—once the preserve of Greek Cypriots—is actively seeking foreign investment as it aims to go further upmarket and become year-round: A new law allowing casinos has been passed, which means these will start to appear next year, attracting money that had been going to Turkish northern Cyprus.
Meanwhile, almost everyone is keenly waiting to hear the results of the exploratory offshore drilling done by the Italian-Korean consortium ENI-Kogas. It could add substantial reserve estimates to the initial finds of Noble Energy back in 2011 that the Aphrodite field could contain as much as six trillion cubic meters of gas. Although many obstacles must be negotiated before Cyprus can expect to become a full-fledged gas producer—not least disagreements with the Turkish Cypriots and Turkey—substantial energy wealth would clearly transform long-term prospects.
Significantly too, equity and investment funds are becoming increasingly active, taking advantage of the island's strategic location between Europe and the Middle East and a well-educated workforce where some 90% of people have higher education.
"Banks are deleveraging, and private equity funds are taking their place," says Angelos Gregoriades, head of the Cyprus Investment Funds Association, which in a year of operation already boasts 95 members. He says imminent legislation that will enable funds to lend to local SMEs will be highly significant, both for the island's still-evolving financial sector and for the wider economy, given that lack of SME and corporate funding is one of the biggest obstacles to growth right now. "In a few years time, once the current reforms are complete and the economy recovers, a new Cyprus will emerge," he predicts.