CORPORATE FINANCING NEWS: CORPORATE DEBT
By Denise Bedell
After a record year, and four months hovering at around $30 billon in monthly issuance volumes, US high-yield debt issuance declined in December to $21 billion, according to data from KDP Investment Advisors.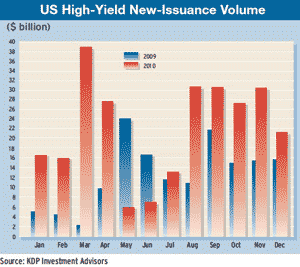 Aircraft components maker TransDigm bucked the trend, however, with a $1.55 billion high-yield issue in December that was nearly twice the originally planned $780 million.
TransDigm will use the proceeds from the eight-year, 7.75%, in conjunction with a term loan for the acquisition of rival McKechnie Aerospace Holdings, for balance sheet strengthening and to refinance debt.
Aluminum company Novelis brought a $2.5 billion, two-tranche deal to market in mid-December to pay a dividend of $1.7 billion to its parent company and refinance an existing bond. The company sold $1.4 billion in 8.75%, 10-year notes and $1.1 billion in 8.375%, seven-year notes.
Global sub-investment-grade credit quality is steadily increasing, according to Diane Vazza, a managing director of global fixed income research at Standard & Poor's in New York. She says that the number of global weakest-link companies—those with ratings of B- or lower—halved in 2010 and will likely continue to drop in 2011. However, there will still be significant global defaults among the lowest-rated companies, she notes.
Vazza says: "Historically, we have noticed that once companies become weakest links, the likelihood that they will default escalates sharply in comparison with the rest of the speculative-grade segment."
The number of companies rated as weakest links declined sharply from its peak 300 entities worldwide with combined outstanding debt of more than $500 billion in March 2009, to just 114 entities with combined outstanding debt of $125 billion by December 31 2010. Of the 114 weakest link entities worldwide, 80 are based in the United States, 13 are based in Europe, 7 in Asia-Pacific, and 5 in Latin American countries.
As Global Finance was going to press, Standard & Poor's noted that there had been no defaults yet this year. The firm said that by mid-January 2010 there were already eight announced defaults, including six from the US, one from Canada and one from Australia.
Corporate bond investors were reassured after investors shrugged off warnings from both Standard & Poor's and Moody's about potential future negative actions to the US sovereign debt rating should the country's debt burden continue to rise. In the same week that the ratings agencies released the comments an auction of $13 billion in 30-year US Treasuries was launched to higher-than-expected demand.