CORPORATE FINANCING NEWS:CORPORATE DEBT
By Gordon Platt
High-Yield Debt Issues Break Record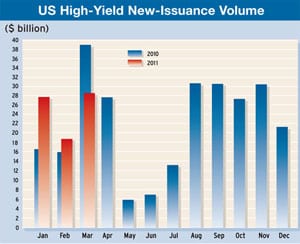 Source: KDP Investment Advisors
Corporations worldwide issued more high-yield debt in the first quarter of this year than in any opening quarter since records began in 1980, according to Thomson Reuters. The $100.4 billion total for the first three months of 2011 was second only to the $104.2 billion issued in the fourth quarter of 2010.
In the US market, which accounts for the majority of bonds issued by companies with less than an investment-grade rating, favorable liquidity conditions and an improving economy, which implies lower default rates, have caused spreads to contract even further following two years of narrowing versus treasury securities. The skimpy yields available on US government debt are encouraging investors to seek the higher returns offered in the riskier high-yield market. Corporations are happy to take advantage of the relatively low borrowing costs to refinance outstanding debt and to finance mergers and acquisitions.
Hot-Button Issue
US deficit funding is going to be a high-profile topic for some time to come, says David Harris, senior vice president and money manager at Schroder Investment Management, based in New York. "While the current and projected debt levels are, at the margin, negative for US treasury bond prices, any efforts to cut federal spending will act as a temporary drag on growth which, paradoxically, would be good for bond prices," Harris says.
The economic recovery in the US is still on rather tenuous footing, according to Harris. "We see this as a greater risk than falling bond prices," he says. "It's refreshing [as fixed-income investors] to see the deficit reduction finally being taken seriously even though it will result in some near-term uncertainty as the inevitable political agendas are discussed."
Source of Volatility
The debate will ebb and flow, depending on a wide range of factors, such as economic data, the Treasury's funding calendar, the behavior of other risk markets and political agendas, Harris says. In the near term, politics will be the most important factor and will be a source of volatility as genuine debate about deficit cutting begins in earnest for the first time, he says. Lawmakers and President Obama agreed last month to $28 billion in spending cuts to avoid a government shutdown.
Meanwhile, corporations have continued to issue notes and bonds at a fast pace in the US high-yield debt market. According to KDP Investment Advisors, based in Montpelier, Vermont, the volume of new issuance rose to $28.5 billion in March from $18.6 billion in February.
Intelsat Jackson Holdings had the biggest high-yield issue in the US market in March with its two-part offering of senior notes totaling $2.65 billion. The subsidiary of Luxembourg-based Intelsat, which operates 50 satellites serving customers in 200 countries, used the proceeds to refinance outstanding debt.
CIT, a provider of commercial financing, issued a total of $2 billion in a two-part offering of second-priority, secured senior notes to retire outstanding issues. Los Angeles–based defense contractor Northrop Grumman spun off its shipbuilding subsidiary, Huntington Ingalls Industries, after the latter completed a two-part offering of senior notes totaling $1.2 billion.