Attracting FDI is critical toeconomic diversification and four Middle Eastern nations are working the hardest to attract foreign investors.

Doing business in at least four countries in the Middle East is becoming easieraccording to the World Bank'sDoing Business 2020 report. Saudi Arabia, Jordan, Bahrain and Kuwait improved various policy areas important forforeign investors andrank among the top 10 most improved nations to do business in 2018-2019.
Within the Gulf Cooperation Council, different countries are at different stages of implementing economic diversification strategies to their reduce dependence on oil revenues. Some countries are instituting a value-added tax while all are striving to boost theirforeign direct investment (FDI).
Saudi Arabia improved: procedures for starting a business, getting construction permits,electricity, permits, and credit; protecting minority investors; trading across borders across borders; and resolving insolvency. These improvements seem to have been rewarded by a growth of net FDI inflows in 2018 ofUS$4.2 billion in 2018, up from US$1.4 billion the previous year.
Jordanimproved access to credit, tax paymentsand resolving insolvency. Yet these efforts were not rewarded: Jordan's net FDI inflows in 2018 were US$950 million, down from US$2 billionin 2017.
Bahrain improved in getting permits and electricity, registering property, accessing credit, protecting minority investors, paying taxes, trading across borders enforcing contracts and resolving insolvency. Net inflow ofFDI to Bahrain jumped from US$519 million in 2017 toUS$1.5 billionin 2018.
Kuwait improved in almost all metrics yethad negative FDI flows at US$21 billion in 2018 compared with positive net FDI inflow of US$113 million in 2017.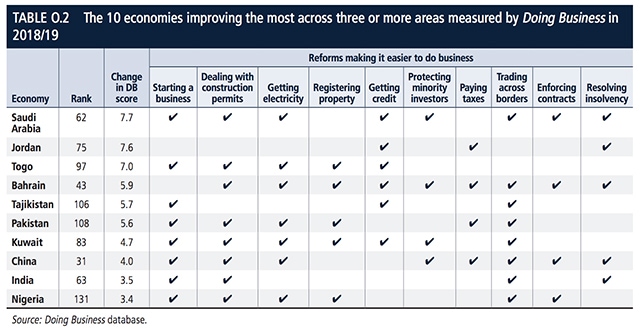 However, FDI figures—positive and negative—should be taken with a proverbial grain of salt explains Lebanese-born Atif Kubursi, economics professor emeritus at McMaster University, former acting executive secretary of the UN Economic and Social Commission. "The numbers on the surface are very rosy but down deep there are structural issues that have not been taken into consideration," he says.Outside of their 'improver' status, the four countries are very different economically. Saudi Arabia is difficult to do business with but has a strong economy. "(By comparison) Jordan is definitely more open and friendly for business and has always been but Jordan's economy is a tinderbox that could collapse at any time," he explains. This hampers foreign direct investment since investors need a long horizon. "Investment usually takes a long view and a long view is usually 5-10 years," he says, explaining that such a view with Jordan is not workable.
The four countriesare also very different politically. Saudi Arabia has a rapprochement of sorts with Israel which has reduced Jordan's earlier role as background contact between the countries and which Kuwait has not accepted. On the other hand, Saudi Arabia is involved in a messy war with its neighbor Yemen and tensions with Iran are heightened, particularly after a September missile attack shut down much of the country's oil production.