CORPORATE FINANCING NEWS: GLOBAL EQUITY/DRS
By Gordon Platt
Depositary receipt investors pushed trading to a record high last year, demonstrating the continued popularity of DRs, despite challenging market conditions.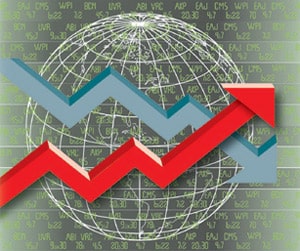 While the amount of capital raised by corporate issuers was down from 2010, the year ahead looks promising, bankers say.
"The DR pipeline for capital raising is the best we have seen in five years," says Dennis Bon, global head of depositary receipts at J.P. Morgan. "The only question is the market environment. Issuers will be waiting to take advantage of periods of calm."
Despite global economic concerns, 54 issuers raised more than $14 billion via DR IPO or follow-on offerings in the first 11 months of 2011, according to J.P. Morgan. That was down from 93 issuers that raised a total of $20.3 billion in the same period a year earlier.
"As the pipeline is encouraging, it looks like 2012 should be a good year, if the larger transactions are able to close," says Vikas Taimni, global product manager of depositary receipts at J.P. Morgan. A steady increase in DR capital raised from emerging markets is expected, and the Asia-Pacific region likely will be the most active in terms of number of IPO deals, he says.
LONDON LEADS IN IPOS
London overtook the US as the preferred location for DR IPO capital raising and was the source of 46% of the total in the first 11 months of 2011, followed by New York at 29%, and Luxembourg at 9%, according to J.P. Morgan.
London's lead was due in part to the fact that Russian issuers prefer to list their IPOs there, and these issues tend to be larger than those of Chinese firms that opt for New York, Taimni says But New York remained the dominant trading center for DRs, with about two-thirds of trading volume and value in the first months of last year. Overall DR trading volume worldwide was up 16% from the same period a year earlier.
"Market volatility was a big driver of volume, as was the quality of the new programs, which created investor demand," Bon says. J.P. Morgan launched two groundbreaking programs on the Hong Kong Stock Exchange in 2011. In April, SBI Holdings of Japan raised $207 million in the first-ever capital raising via Hong Kong DRs. In December 2011, luxury apparel designer Coach saw the first Hong Kong DR program for a US-registered entity.
"It's encouraging that local DRs in markets such as Hong Kong and Brazil continued to expand in 2011, while early-stage markets in the Middle East, Nigeria and Mongolia prepared for expected growth in 2012," Bon says.
MORE PROGRAMS TO COME
Michael Cole-Fontayn, CEO of BNY Mellon's DR business, says DR trading passed $3.5 trillion in 2011. "There were many more DR programs outstanding, including unsponsored DRs, which is what investors were asking for, as they seek greater diversification," he says.
The US Securities and Exchange Commission's rule revision in October 2008, simplifying the formation and trading of over-the-counter DRs of non-US publicly traded companies, has resulted in more than 1,000 new unsponsored DRs from 35 countries coming to market. BNY Mellon set up the programs for 92% of these unsponsored DRs, including more than 400 where it is the only depository on record.
More than 240 unsponsored DRs are included in BNY Mellon's DR indices, and firms are launching a range of new ETFs tied to these indices, as well as bespoke indexes.
BNY Mellon stays in close contact with the companies for which it issues unsponsored DRs and provides them with news of net investments, Cole-Fontayn says. Sometimes the issuers want to take control of the programs and manage them, he adds. In June 2011, Sberbank, the largest savings bank in Russia, decided to establish a sponsored DR program to gain further access to the global capital markets, and it appointed BNY Mellon as the depositary bank.
INDIA OPENS UP MARKET
India plans to open its stock market to individual foreign investors for the first time, following a year in which its main Sensex index for the Mumbai market fell 25%, which could spur demand for DR products. The government said the move was designed to deepen the market, widen the investor-base, attract more foreign funds, and reduce volatility.
The BRIC countries—Brazil, Russia, India and China — dominated DR capital raising in 2011 and accounted for 75% of IPOs via DRs. "It was a challenging year for companies to raise capital, and Brazil imposed some taxes, which have since been relaxed somewhat," Cole-Fontayn says. Following a public procurement process, Petrobras recently selected BNY Mellon as successor depository for its NYSE ADR programs.
Foreign JVs continue to access the DR market in China. "US governance and accounting practices are followed," Cole-Fontayn says. "As long as the issuer's business plan has strong industrial logic, it is merely a question of valuation."
Akbar Poonawala, head of global equity services at Deutsche Bank, says Asian companies accounted for about one-third of new DR capital raising last year. Of the total Asian deals, 51% came from China, 40% from Taiwan, and 7% from India.
"There was a huge disparity in terms of DR deal size in 2011," Poonawala says. Issues from Taiwan were the biggest, with an average deal size of $344 million, he says. Chinese companies, often listing in New York, had an average deal size of $182 million. Indian companies, which commonly list in Luxembourg, averaged $20 million.
Deutsche Bank was the first depositary bank to sponsor a global depositary receipt program for a Vietnamese company. Hoang Anh Gia Lai, one of the largest conglomerates on the HoChiMinh Stock Exchange, raised $60 million via GDRs on the LSE.
Frontier markets with promising prospects for future DR issues include Mongolia, Kazakhstan, Nigeria and Iraq, Poonawala says. New structures are emerging around the world, such as Canadian companies listing DRs in Zambia, he adds. Despite the sovereign debt crisis and market volatility in Europe, there were 30 new DR issues from European companies in 2011, including 11 that raised new capital, Poonawala says.