ROUNDUP
By Antonio Guerrero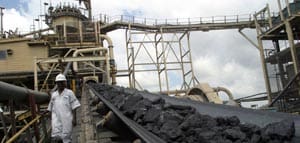 Ghana's mining sector gets a funding boost from China
Ghana has become the leading recipient in sub-Saharan Africa of Chinese infrastructure financing, giving China unrivaled access to the country's commodities sector. Ghana signed a $13 billion loan agreement with China, which is one of the largest in the region. The agreement includes a $10 billion 20-year loan from the Export-Import Bank of China to support infrastructure development, including roads, railways and dams. It also includes a $3 billion Chinese Development Bank loan to finance oil and gas infrastructure. China is reportedly interested in taking a stake in Ghana's Jubilee oil field, while Bosai Minerals Group of China signed a letter of intent to invest $1.2 billion in the country's bauxite and aluminum sector.
Nigeria is seeing growing interest in its proposed multimillion-dollar bond issue. Currently, the sovereign is planning a 10-year $500 million eurobond issue, but with investor demand for the much-awaited deal continuing to build, some market players are asking that the government consider doubling the issue to $1 billion. The government first announced plans for the issue in September 2008 but later postponed the deal on account of deteriorating economic and market conditions. The mandate's issuance indicates the government is moving closer to launching the deal, which could benefit from the country's strong economic growth.
The Kenyan housing ministry estimates the country needs to add 150,000 housing units each year to meet demand. Construction and real estate accounted for 11% of GDP during the second quarter of this year, as scarcity unleashed a real estate boom. Housing Finance Kenya (HFK), Kenya's only publicly traded mortgage lender, closed a $62 million bond issue on October 1, which will help expand the country's mortgage loan market and support housing sales. Reports that the deal was 41% oversubscribed confirmed growing interest in the sector.