PLAY ON
By Antonio Guerrero
Brazil is betting that its huge investment in infrastructure projects for the 2014 Soccer World Cup and the 2016 Olympics will provide long-term benefits to the country.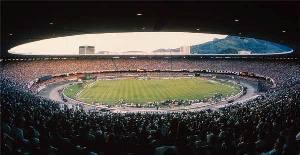 Just six weeks after Rio de Janeiro won the bid to host the 2016 Olympic Games, bringing the global event back to Latin America for the first time since Mexico City hosted it in 1968, nearly half the country was plunged into a blackout. While analysts had long warned the government that Brazil's infrastructure was seriously lagging its growth, the blackout was an unmistakable wake-up call. With the country also hosting the Soccer World Cup in 2014, the government has unleashed an infrastructure development plan of Olympian proportions.
According to the economic impact study for the 2014 World Cup, published by Brazil's sports ministry, the event will require $18 billion in infrastructure outlays, 78% of which will originate in the public sector. This includes $380 million for ports, $2.62 billion to modernize 16 airports and $6.28 billion for urban transportation. The government's BNDES development bank will provide financing for 75% of the value of each stadium project, up to $218.5 million per project, as well as a credit line of up to $546 million to build and remodel hotels. World Cup games will be held in 12 cities nationwide.
"Infrastructure investment is the variable with the greatest value and impact because, in addition to being directly accounted for in the GDP, they are investments with high potential for job and tax generation, and they really matter for money recirculation later on," notes the study, which mentions stadiums, airports, urban transportation, ports, hospitals, hotels, telecom/IT and security among sectors requiring infrastructure upgrades for the events.
The study also estimates the World Cup's potential economic impact for Brazil to be near $100 billion between 2010 and 2014, of which 73% will be indirect. The sports ministry expects $5.13 billion in incremental tourism, tax collection of $9.18 billion and creation of 330,000 permanent jobs and another 380,000 temporary ones. Infrastructure investments, the report notes, will also be a "platform for productivity gains in the private sector" and for "creation of new centers/vectors of development."
"Investment in the Brazilian economy is expected to remain very strong during this decade as the country prepares to host the Soccer World Cup in 2014 and the Olympics in 2016," Wells Fargo Securities said in its recent review of global investment conditions. "Infrastructure investment will be the driving force as the economy continues to modernize. Brazil may finally become the country of today, rather than being touted as the country of the future."
The investment plan bodes well for an economy already in growth mode. After shrinking 0.2% last year, Brazil's economy will grow as much as 6.5% in 2010, finance minister Guido Mantega predicts. GDP grew 9% during the first quarter of the year, compared with first-quarter 2009, bringing annualized growth to 11.2%—the strongest rate in more than 15 years. Fitch is even more bullish than Mantega and projects full-year GDP growth at 7% this year, compared with a median of just 3.7% for the sovereign's ratings peers. The ratings agency upgraded its outlook on Brazil's BBB- investment-grade rating in July to "positive."
In fact, growth is so impressive that there are mounting concerns over possible overheating. The central bank raised the benchmark Selic interest rate to 10.75% in the hopes of applying the brakes on the credit availability that is boosting consumer demand. Inflation remains a threat, though. "We are looking now for sustainable economic growth that doesn't produce debt or inflation," says Mantega. "Brazil can now be considered a construction site."
The $220 billion second phase of the government's National Growth Acceleration Program, launched in April to support economic recovery, focuses on infrastructure development through 2014. The country plans, for example, to increase its electricity production capacity to 90,000 megawatts from a current 70,000 megawatts. And, facing high crime rates in Rio de Janeiro and other cities, the government will invest more than $3 billion in security measures in advance of the Olympics and the World Cup. Initial estimates say Rio de Janeiro will require some $1.5 billion in telecom infrastructure investments for the Olympics.
Construction of a $19.3 billion high-speed rail line between São Paulo and Rio de Janeiro, the country's two largest cities, is in the works, as is expansion of existing subway systems. In July the government announced terms and opened bidding for the 530-kilometer bullet train project. Companies have until November 29 to submit bids, and the winner will be announced at the São Paulo stock exchange on December 16. Selection criteria include providing the lowest passenger fare, with the government setting a cap at 28 cents per kilometer. Companies that have reportedly expressed interest include France's Alstom, Germany's Siemens and Japan's Mitsui. BNDES will fund up to 60% of investment in the railway.
"I think that it's completely feasible that we'll inaugurate the [high-speed rail] project by 2016," said Brazilian president Luiz Inácio Lula da Silva during the bid announcement in Brasília. That means the rail line would be available to transport passengers for the 2016 Olympics, reducing the six-hour bus ride to a one-and-a-half-hour train ride at 280 kilometers per hour, though bid terms specify the service does not have to be ready until 2017. The government is establishing a closed-capital public company to oversee the railway's construction and operation. The winning bidder will be responsible for construction, operation and maintenance under a 40-year concession contract.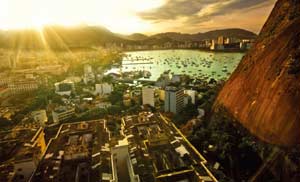 Bright future: Brazil's infrastructure investment should provide long-term benefits
Infraero, the government's airports management agency, announced a $7 billion plan to expand capacity to meet increased traveler flow, in a country that saw overall traffic grow by 36% since 2000 but had not made investments to meet demand. TAM, Brazil's largest airline, has responded by ordering an additional 25 aircraft from Airbus. Gol Airlines is also gearing up for increased passenger loads through what it calls a disciplined fleet plan. "The airlines welcome these upgrades, as they will stimulate the industry's sustainable growth," says Leonardo Pereira, vice president for financial and investor relations and CFO at Gol.
Richard Kang, head of research at Emerging Global Advisors, which manages the only ETF focused on Brazil's infrastructure sector, says investors are not, however, likely to benefit from the infrastructure boom. "There may be very few options for investors to directly access infrastructure projects within emerging markets, whether in Brazil or elsewhere," he says. "Large private-equity funds are one way, but they require high investment amounts to enter, as well as the willingness to accept significant illiquidity risk."
While certain closed-end funds listed on the NYSE and other exchanges are portfolios of publicly available infrastructure projects, Kang says ETFs are one way for investors to access these projects indirectly. "Since with an ETF you are not directly accessing infrastructure projects, you have to accept that the payoff will be highly dependent on the inherent market volatility embedded in the stocks within the portfolio," he explains. Although investors tend to look at emerging-markets plays as short-term ones, he contends infrastructure investments require a different mind-set since they are developed over the long term.
Jonathan Willner, a sports economist who teaches economics at Oklahoma City University, takes a bearish view of the likely outcome from the mega-events. "If the past is prologue, Brazil should get ready for a major hangover," he argues. "Only part of the 'investments' are actually investments. Some are consumables and many are like jewelry." Willner warns that such events generally require a level of overbuilding of venues, leaving many of them underutilized and unprofitable once the crowds leave. He points to Sydney, Athens and Beijing Olympic venues that do not cover post-event costs.
The government itself seems to agree. "There is a risk of having white elephants after the World Cup because not every host city has a soccer tradition and enough fans to justify the existence of such stadiums," warned a report issued by the TCU, Brazil's national audit agency and budget watchdog. The report also signaled some serious delays in launching construction projects for sports venues, airports, hotels, transportation and other infrastructure as agreed to under a FIFA timeline. As of May this year, only three of the 12 stadiums that will host the 2014 World Cup were ready.
Lula insists everything will be ready in time for the events. To facilitate infrastructure projects, legislators have relaxed several budget guidelines for 2011, including requirements for environmental licenses and land expropriation, among others.
The fact that many of the necessary infrastructure upgrades will be carried out for the World Cup, two years before the Olympics, could work in Brazil's favor. "Brazil stands to do better than most countries by way of the World Cup and Olympics," says Willner. "By hosting them close together and in the proper sequence, they should minimize the losses associated with holding these grand parties. Unfortunately, these will still be net losses to the state and, therefore, the society as a whole."
Young Hwan Kim, chief investment officer of the Brazilian unit of Korea's Mirae Asset Global Investments, is more optimistic. "Brazil's leverage is considered low—general government debt is below 60% of GDP—and part of the investments have already been planned but will be accelerated," he says. "Even considering that all the investments will be done by the government, leverage shouldn't reach over 70% of GDP, which is still low when compared to other countries." Kim notes that, while leverage will increase loans at first, the impact from tourism and productivity gains will prompt a drop in the debt-to-GDP ratio over time.
How the Brazilian population at large will ultimately benefit from the events remains to be seen, though infrastructure investments will have a positive impact on the nation's economy well after the Olympic flame is extinguished. "The economic rate of return is difficult to measure as many of the investments are in infrastructure and meant to have more of a social impact," says Kim. "But in the long term, it should be positive for the country as a whole since it will lead to productivity gains, higher tourism traffic, higher wages and consumption." Let the games begin.