FEELING THE EFFECTS OF ECONOMIC CONTAGION
By Antonio Guerrero
The Africa Finance Corp, a multilateral finance institution based in Nigeria, says it has a pipeline of sub-Saharan investment projects worth $3 billion over the next year. The AFC has already invested $500 million in projects worth $4 billion.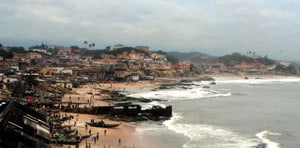 European debt woes are washing up on Africa's shores
While Africa has been relatively unscathed by the eurozone debt crisis, African governments' reluctance to tackle public sector deficits is making the region more vulnerable to contagion. A report by the African Development Bank and OECD says the European crisis is undermining African growth, while African governments are running out of options to shield their economies through fiscal stimulus given the high deficits. The report predicts that a worsening European outlook will dampen global growth, further weakening African export markets and lowering commodity prices. It notes that several governments, including South Africa, Kenya, Uganda and Algeria, are not moving quickly enough to reduce their budget shortfalls. The multilateral bank predicts Africa's economy will still grow by 4.5% in 2012, up from 3.4% in 2011.