CORPORATE FINANCING NEWS — GLOBAL EQUITY/DRS
By Gordon Platt
State-owned Coal India, the world's largest coal miner, was seeking to raise up to $3.5 billion in the country's biggest initial public offering, which began on October 18. That would easily surpass the $2.46 billion raised by Reliance Power in its IPO in January 2008. Proceeds from the government's sale of a 10% stake in the company could account for more than a third of its divestment target for the current fiscal year, ending on March 31, 2011. Coal India's listing in Mumbai is scheduled for November 4.
India's central bank said it was prepared to offer special liquidity-support measures to head off a potential crunch in the banking system due to the cash outflow to purchase Coal India shares. The shares were being offered at a 5% discount to retail investors.
Coal India, based in Kolkata, produces nearly 80% of India's coal output. Coal-burning power plants produce the majority of India's electricity, and demand is growing at an 11% annual rate.
Citi, Morgan Stanley, Kotak Mahindra Capital, Enam Securities, Deutsche Bank and Bank of America Merrill Lynch are managing Coal India's IPO.
State-run Power Grid is expected to follow with a $1.9 billion share offering in the second week of November. Hindustan Copper is planning a $750 million follow-on stock offering. Steel Authority of India, the country's largest steelmaker, is planning a $1.9 billion follow-on public offering before the end of this year.
Meanwhile, global equity capital markets activity totaled $506.7 billion in the first nine months of 2010, a 9% decrease from the comparable period a year earlier, according to Thomson Reuters. This was despite China-based AgBank's $22.1 billion record-breaking IPO and the world's largest follow-on offering of $66.8 billion from Brazil-based Petrobras, which helped make the third quarter the biggest for global equity issues since the fourth quarter of 2009.
Global IPO volume for the first three quarters of 2010 of $146.6 billion marked the strongest nine-month period for IPOs since 2007. Issuers from emerging markets have raised $92 billion so far this year, accounting for 62% of IPO volume.
China's volume more than doubled from a year earlier and accounted for 20% of the total in the first three quarters of this year. China-based IPOs have been among some of the best performers in the US market recently, according to Renaissance Capital. Online real-estate portal SouFun rose 52% in its first day of trading. Fast-food restaurant chain Country Style Cooking rose 68% in its debut, and Internet content delivery network ChinaCache gained 74%.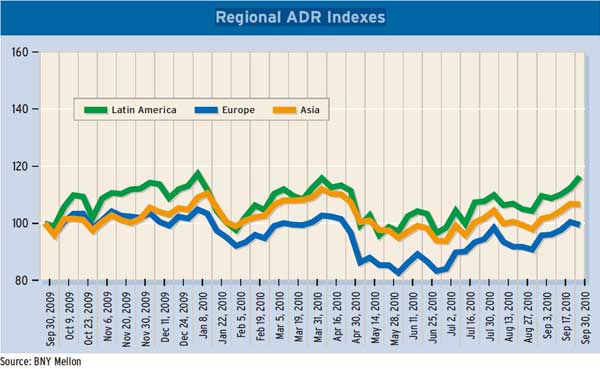 The China Securities Regulatory Commission plans to implement new rules this month that will improve the pricing of IPOs on its stock exchanges. Issuers and underwriters will be required to disclose prices quoted by potential investors during the pre-marketing of share issues.
China-based companies raised more than $40 billion through IPOs in the third quarter, accounting for 76% of the global total, according to Ernst & Young. The Shanghai Stock Exchange plans to open a new international board next year, with dozens of foreign companies waiting to list in Shanghai, including some China-based companies that are currently listed in Hong Kong.
Meanwhile, in the US IPO market, the trend in year-to-date statistics for both volume and value are a clear indication of a strengthening market, says Scott Gehsmann, capital markets partner with PwC Transaction Services. "The rapid increase in deal volume, both successful IPOs and pipeline growth, coupled with a decline in average deal size, suggests we may still be building a base," he says.
Capital raised in the US IPO market in the first three quarters of this year totaled $14.1 billion from 99 IPOs, compared with $8.1 billion from 34 offerings in the same period of 2009.
Some 67 companies entered the IPO registration process during the third quarter, and a number of these could become the biggest deals of 2010, PwC says.