Egypt's entrepreneurs need innovative financial services delivered via mobile phone to become successful contributors to the economy, says CIB's chairman and managing director, Hisham Ezz Al-Arab.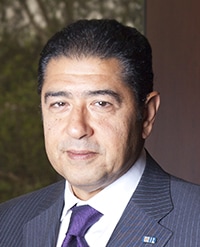 Global Finance (GF): Was the decision to float Egypt's currency in 2016 a factor in the country's economic turnaround?
Hisham Ezz Al-Arab: Yes, it was certainly a factor. However, it was one step in a larger economic-reform program to stabilize the economy and address the country's greatest economic challenges: the budget deficit, government debt and job creation. By the end of 2016, the government had made a number of major decisions, including VAT legislation and energy-subsidy cuts, which were crucial to putting Egypt's economy back on track.
One of the recent significant moves was the parliament's approval of Egypt's first-ever bankruptcy law. The new law will remove many obstacles that used to dissuade investors, as it provides more simplified post-bankruptcy procedures, eliminates investors' need to resort to court, and abolishes the threat of imprisonment in the case of bankruptcy.
GF: Which sectors of the economy do you see as most promising for growth and investment?
Al-Arab: Opportunities span all sectors. Egypt is an enormous market that needs infrastructure, energy, transportation and water-desalination projects and more.
We have a rapidly growing population that is fueling the consumer goods, pharmaceutical/healthcare and real estate sectors. Egypt is also a gateway to Africa, not only because of its geographic location, but also because of trade agreements that allow duty-free entry to many African and Arab countries. Egypt provides an environment that is conducive to production, due to the attractive cost of labor, lower distribution costs and simpler regulations. For these reasons, products can be much more competitive.
GF: Is the cash economy or the "gray" economy still a big part of Egypt's economic reality? What channels can banks use to push for financial integration?
Al-Arab: The banking sector is closely aligned with the government's overarching goal of integrating the grey economy into the formal one. As Egypt's leading private-sector bank, CIB has been committed to reaching the unbanked population and thereby support financial inclusion. We believe that the integration of current technology is the key to reach the young, unbanked population who comprise the vast majority of the gray economy. This is where CIB has differentiated itself, particularly in our investment in digital platforms, versus traditional channels, which has led to the launch of many significant products such as the Smart Wallet, Internet Banking, CIB Mobile Banking App, among others.
GF: What technological innovations has CIB introduced?
Al-Arab: We believe in the transformative power of technology and how it can make us more efficient and better able to serve our clients. For this reason, we are continuously upgrading our platforms, distribution channels and offerings. We fully embrace "banking on the go," to make transactions more accessible and convenient to fit our clients' busy lifestyles. Our clients can make money transfers through their mobile wallet and pay school fees through ATMs.
With 110% mobile penetration rate in Egypt, and only 10% of the population with access to financial services, CIB sees a huge growth opportunity in secure and cost-effective financial services delivered via mobile phone. The CIB Smart Wallet is suitable for both banked and unbanked customers, as it allows users to easily pay directly through their mobile phones. Our investment in digital platforms includes a major effort to ensure that they operate in a safe and secure environment. We have implemented specific initiatives and capabilities to proactively monitor and address security threats. Our fraud-management solution monitors activity on both consumer and corporate Internet-banking platforms.